| | |
| --- | --- |
| Raw diet bad? | |
08-26-2011, 04:19 AM
chi god/godess

Join Date: Aug 2011

Name: T

Posts: 2,183

Thanks: 69

Thanked 88 Times in 85 Posts
Raw diet bad?
---
I am reading and reading and reading in preparation for my pup that I'm getting in a few weeks. I have been in contact with multiple breeders, just gathering their opinions on raw & I plan on doing the same with a few different vets..one breeder responded this in regards to a raw diet. Why can't there ever be one consensus on anything lol, I'm getting frustrated!


Now! On to the question about raw food! First and foremost, a puppy CANNOT digest raw foods of any kind! NEVER FEED A PUPPY ANYTHING RAW! I don't care where you read this misinformation - it is simply NOT correct! Only undomesticated wild animals have the constitution to digest raw foods (e.g. whatever they 'killed' to eat in order to stay alive!). Raw diets or BARF (bones and raw foods) are diets that consist of raw meat with some fruit and vegetables. Sometimes they have grains mixed in, along with meaty raw bones. There are numerous serious problems that can arise with feeding a diet like this! Getting a correct nutritional balance can be tricky. Raw meats must be handled very carefully to prevent bacterial disease such as salmonella which can affect people as well as dogs. Parasites can be a serious problem with raw meat. Chewing bones could lead to splinters if the dog isn't observed carefully, and even ground bones can cause an impaction (blockage of the intestine which can be excruciatingly painful for the dog!). The average dog owner does not have the nutritional knowledge to feed their dog a diet like this, and even if you choose to make home-made dog food, the same problem can occur. Two of my little Dams had such bad morning sickness that my Vet told me to boil chicken in order for them to eat, and I can remember quite vividly being told to add supplements to the diet because there were not enough nutrients in the chicken alone. That was when it was recommended that I begin feeding the 'by prescription only' a/d food. The most important thing of all is to ALWAYS TALK TO YOUR VET AND DO AS HE/SHE RECOMMENDS FOR YOUR PARTICULAR PUPPY. As long as the puppy is thriving there is no need to change anything in the diet.
08-26-2011, 06:15 PM
---
There is only one thing I can comment on in your post and that is the salmonella part. I have read, that there can in fact be salmonella in all dog food, not just raw, but that a dogs gut can tolerate it and it does not make them sick. We people, on the other hand must be very careful when handling any dog food. Make sure you wash your hands good after handling, etc. As for any of the rest of that I can not shed any light. There are some very knowledgeable raw feeders on here though and I am sure they can answer your question.
08-26-2011, 06:38 PM
chi god/godess

Join Date: Sep 2010

Location: US

Posts: 1,018

Thanks: 0

Thanked 2 Times in 2 Posts
---
Audrey has been on raw since she was 6 weeks 4 days old. She is in incredible shape and has never had a cold, allergy, nothing. My sharpei is also on raw, anyone who is familiar with the shar-pei know that they suffer many skin issues. Since putting my pei on raw, not one trip to the vet other than to be spayed
And many vets are highly uneducated on nutrition. They are even payed by Science diet and Iams to promote those foods. My vet says raw is awful then turns around and says my dogs are in beautiful shape! In my opinion, raw is the way to go. I will never feed anything else to any dog or cat I have. And for my family who won't feed raw (my mom and aunt) I've taught them so much on canine nutrition, that they have been moved to purchase a good quality grain free kibble.
__________________
Thank you for my lovely siggy Caitlin!
08-26-2011, 06:51 PM
chi god/godess

Join Date: Mar 2011

Name: Missy

Location: Oregon

Posts: 1,949

Thanks: 4

Thanked 24 Times in 20 Posts
---
A raw diet is safe. There is a risk of salmonella in all dog foods, pre made or raw. Both of my dogs are on a raw and pre-made raw diet. They are very healthy, and they can digest the food just fine! Cooked bones are not safe to feed, but raw bones are not a problem.

Edit:
Since I am by a computer and not typing on my phone, I wanted to add a few more things:

My dogs were not interested in food until I started them on raw. Now, they are so excited to eat. Even though they aren't on a full raw diet, they get raw meat mixed in with their ZiwiPeak daily or a bony raw meal a few times a week. I have noticed a lot of changes since I switched them from kibble. Here are some:

-Very shiny coats
-No stinky breath
-More energy
-Both dogs look leaner/more muscular
-Way WAY less poop
-They are very excited when it is time to eat

A lot of those things the breeder said in her email are common myths about raw feeding. Maybe you can find more information, and share it with her? You never know, she may be open minded once you present her with some facts.
__________________
Thanks LS!
---
Last edited by missy_r; 08-26-2011 at

08:40 PM

.
08-26-2011, 07:15 PM
chi god/godess

Join Date: Sep 2009

Name: Kat

Location: Illinois

Posts: 3,126

Thanks: 489

Thanked 181 Times in 146 Posts
---
Wow. I don't want to say anything rude or anything that might come across that way.

All I can say is, if you google "Myths About Raw Diet,"... you're going to see EVERYTHING that was stated in that email. =/

People such as this are what frustrate me so much. Remember, a lot of veterinary schools are FUNDED by some of the worst foods manufacturers (like Science Diet) which is why they are taught to recommend them.
__________________
~*~*~*~*~*~*~
facebook.com/rescutopia
The Following User Says Thank You to LostLakeLua For This Useful Post:
08-26-2011, 07:24 PM
chi god/godess

Join Date: Jan 2009

Name: Tracy

Location: Wichita, KS for 26 years... just moved to UTAH!

Posts: 14,441

Thanks: 415

Thanked 426 Times in 299 Posts
---
That breeder is misinformed. What in the world did puppies do 50 or 60 years ago before conventional mass produced dog foods become available? LOL.
Just use common sense. Dogs have thrived on raw foods since time began. It is what they are meant to eat. Nature's model is always best.
Do some reading. Do some research. Compare pros and cons of ANY food you choose to feed. If worrying about raw feeding keeps you up at night, don't feed it. Choosing what to feed your dog is a personal decision. Of course input from others is important and valuable. But do what you are comfortable with.
I have raw fed Brody since he was 4 months old. My only regret is that I would have started him on raw the day I brought him home.
If you are curious, you can go to youtube and put in 'raw feeding puppies' or a similar search and you will find a TON of videos on puppies being weaned straight from momma's milk to raw foods.
Feeding raw is similar to the debate between breast feeding and bottle feeding human babies. Would any of us argue that breast is best? Of course it is best. But do bottle fed babies thrive on processed formula? Of course they do. Make a decision that YOU feel comfortable with. Just as with any subject - there are a million opinions. Make up your own mind as to what is best to feed your puppy and go from there.
__________________
"Having heard all of this, you may choose to look the other way.....
but you can never say again that you did not know." William Wilberforce 1759-1833
The Following User Says Thank You to Brodysmom For This Useful Post:
08-26-2011, 08:27 PM
chi god/godess

Join Date: Nov 2007

Location: Hernando County Florida

Posts: 2,340

Thanks: 0

Thanked 0 Times in 0 Posts
---
You can let her know that because she was BOILING the chicken she was KILLING the nutrients. I am currently raising my first RAW litter. It simply amazes me how people can be convinced so easily that GOD got it wrong =/ People stress way to much about salmonella. I use the same towel outside on the patio for a week or more without washing it and my dogs don't get sick, I have handled it and I haven't gotten sick. I don't even wash their bowls but maybe once a week, they clean them themselves. I really wish a wolf could talk, I bet if we could tell them what was being said about eating raw he would LHAO.
Thanks to Tracy and several others that helped me learn around raw my gang has been raw fed since February. I do breed, hence my bitch was raw fed. She was fed on the 80/10/10 prey model diet and had ABSOLUTELY no issues during her pregnancy or whelping. Her puppies are 3 weeks old as of yesterday. They were introduced yesterday morning for their VERY first meal of ground raw chicken necks and let me tell you something they jumped on that faster than any kibble, soft food, baby food, scrambled egg, cottage cheese or what have you that some breeders start their babies on. Now mind you...they have absolutely NO teeth at all and they had no issues eating their ground chicken necks. Here are some pictures of them enjoying the food nature intended for them to eat. Oh and no one got ill effects from eating it.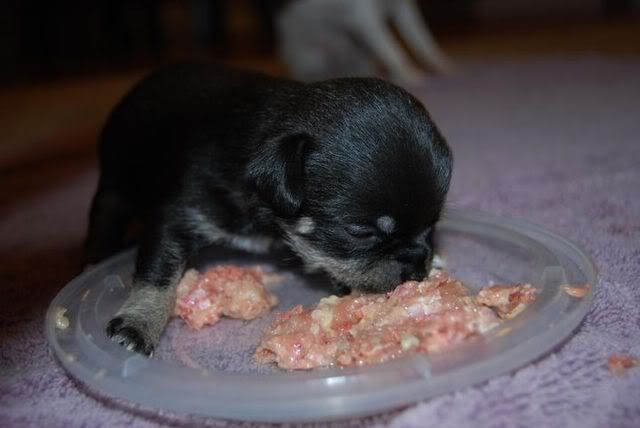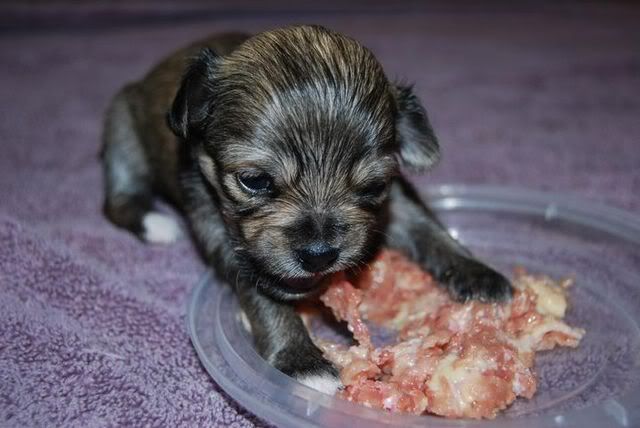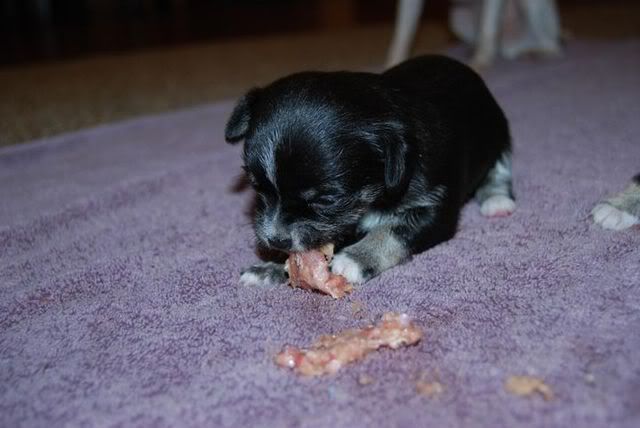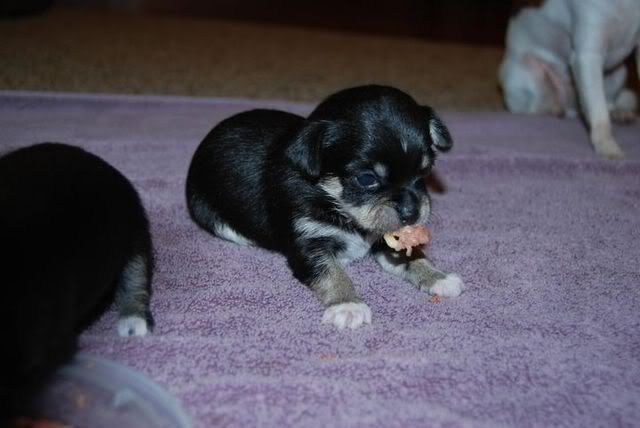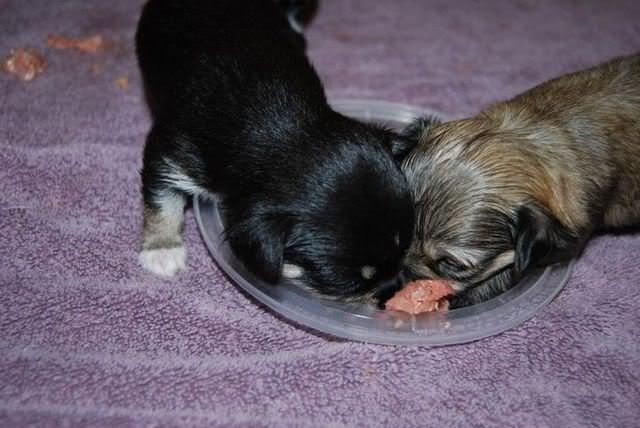 __________________
~Traci, Chopper, Ryleigh and Daisy Mae
---
Last edited by Harley Ridin Chopper; 08-26-2011 at

08:32 PM

.
08-26-2011, 09:01 PM
chi god/godess

Join Date: Mar 2011

Name: Cindy

Location: Massachusetts

Posts: 3,287

Thanks: 330

Thanked 580 Times in 565 Posts
---
I know I keep repeating my seminar on raw diet, but, I did get a lot of useful info from it. They did state, at the seminar, that if you want to do raw, you would benefit from using a vet that also agreed with raw diet. Most holistic vets agree with raw diet. My vet is not a holistic vet. When I asked him about raw, he brought up salmonella. But, he said his concern was not for the dogs, but for the humans, if not handled properly.

For me, commercial dog food is more convenient, (and I guess I'm a little lazy - it's easy to open the bag and take some out! lol). I use Taste of the Wild and Fromm. If I were to feed raw, my only concern would be quality. If you have a local butcher that you trust, then give it a try. I am sure that what you buy in the grocery store is probably fine, for cooking. But if I were to feed it raw to my dogs, I would want to make sure that it has been properly refrigerated from it originating source, even though dogs digest some foods better than we do.

Maybe you can find a seminar locally. I found one on the internet at a local pet store. They weren't promoting any particular foods, it was just a person that believed in raw and used their space to spread the word. There were people there whom had been feeding raw for years and contributed info. It was very interesting.

Good luck in whichever you choose>
Posting Rules

You may not post new threads

You may not post replies

You may not post attachments

You may not edit your posts

---

HTML code is Off

---
All times are GMT. The time now is
02:01 AM
.