Discussion Starter
•
#1
•
After Mage passed away I became so depressed. My life was a mess as is and his passing made it so much worse. For those of you who knew me on this site ( probably not many ) I cannot begin to say how sorry I am for dropping off the face of the earth. Things were just..bad, and I had no internet access for awhile anyway.
I feel like I need to share my grief with those who will understand. No one I know in person has had their chi friend pass away and feel like I have.
That day Mage died I had left him at a friend's house while I ran an errand. During this time he had a seizure and died not 10 minutes later. ( I was unable to hear the frantic calls from my friend because I was on my motorcycle ) The only thing I can think of was hypoglycemia. He had had two episodes as a puppy but at his age I thought it was long gone. Words cannot express how upset I was, in fact, I was in total shock. He was my constant companion and he would have came with me on the errand if my friend didn't request he stay and play with her chi.
Here is the first picture I ever saw of Mage.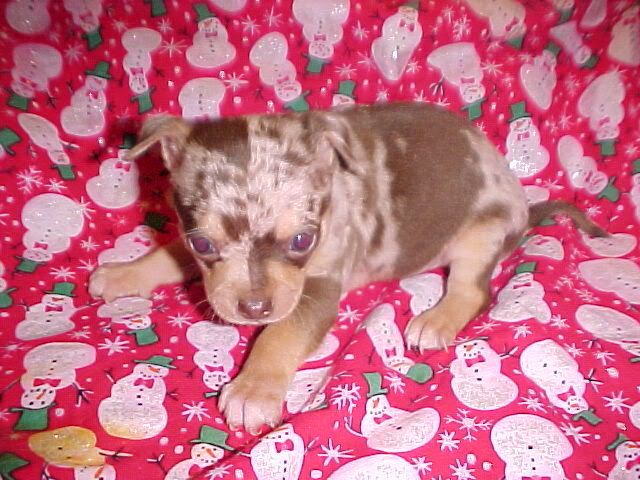 It's almost funny to me, that back then I was worried that he wouldn't like to be cuddled or held. I had never owned a small dog, I wanted a best buddy to take everywhere. He was everything and more.
On the ride home and minutes after picking him up.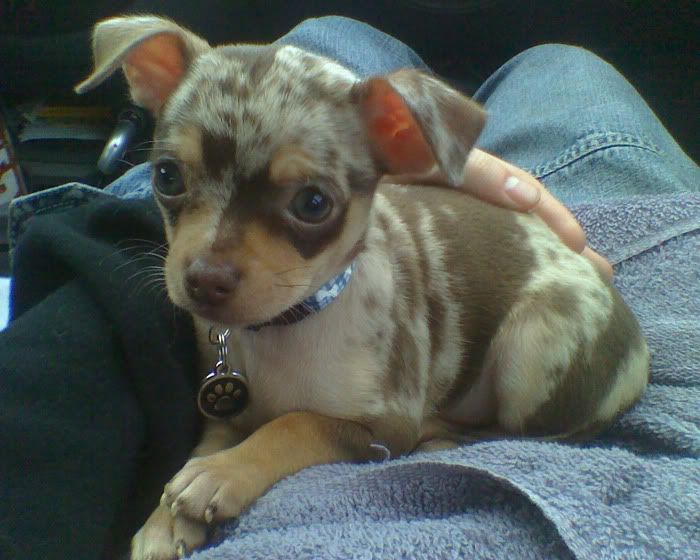 Upon returning home.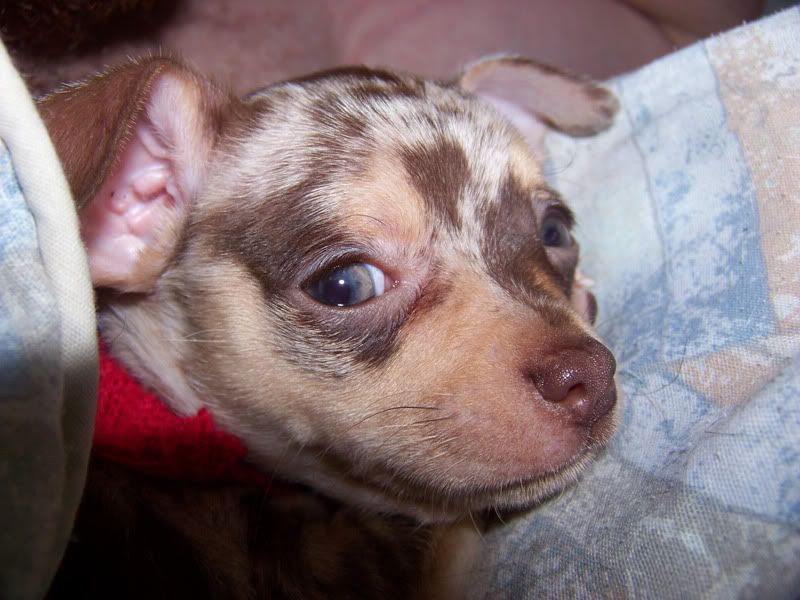 He was a tired pup.
Mage went with me everywhere and he made friends out of everyone, even people who hate small dogs. He always had a butt wiggle and a tail wag for anyone who approached and never barked. In fact, he almost never really barked the entire time he was with me!
He was a silly little nerd
That could be as regal as ever
And downright fearless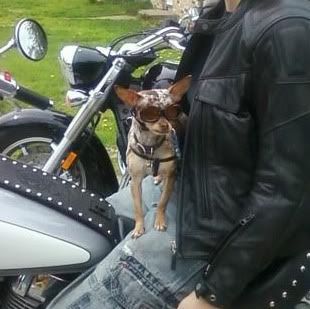 He loved riding on the bike with me and he'd fall asleep curled up on the gas tank with his chin on my leg ( he was secured to my belt loops )
After he died I told myself I didn't want another chi. Ever. I emailed his breeder and told her about what happened because we tended to chat about chis, keeping in touch and I thought she should know.
I got an email from her a month ago and she told me she had a chocolate merle boy just born that is Mage's brother. She told me she'd let me have him over the other people that was in line because of Mage. I told her I'd think about it. My life is improving though there are still setbacks that are slowly resolving.
I thought that maybe, just maybe, I could give it a shot. That maybe I need another companion like Mage had been. I was encouraged by friends to try.
Here is the first pic I seen of Mage's little sibling.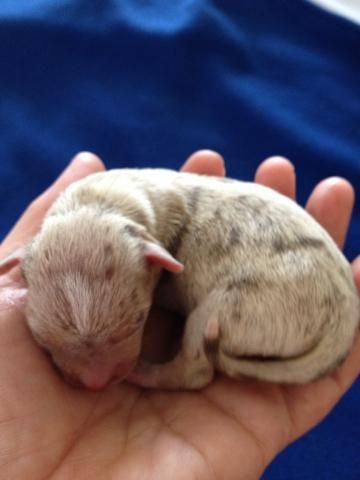 I fell in love instantly but I had to try and think it out! I want what's best for him! Even if I can't give it.
Well, I ended up saying yes. I'm so happy to say that I soooo look forward to meeting this little man in person. I'm very, very excited and I can hardly wait to start socializing him. I want to take him everywhere, just like his big brother. I know I can't ever replace my little Mage but I want to give this one the best life possible.
Here he is at 2 weeks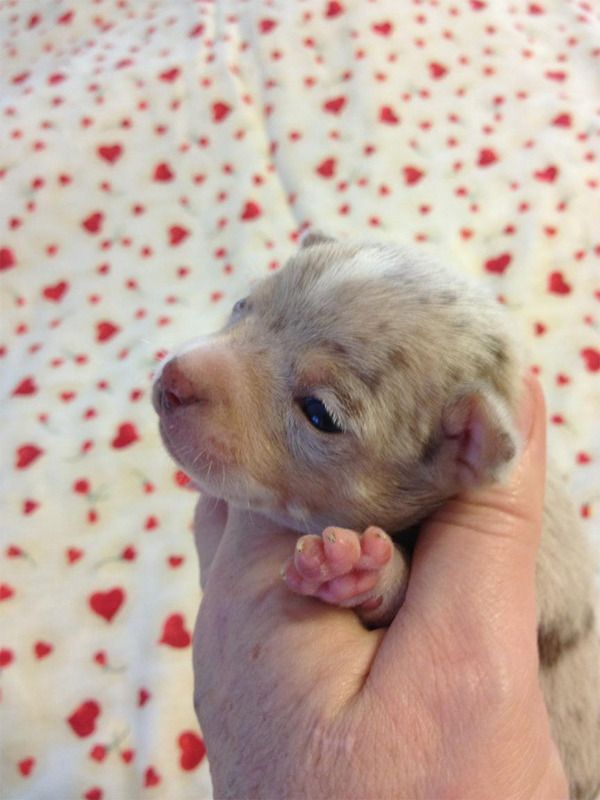 And 3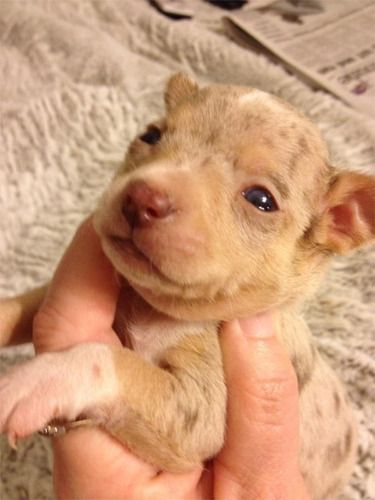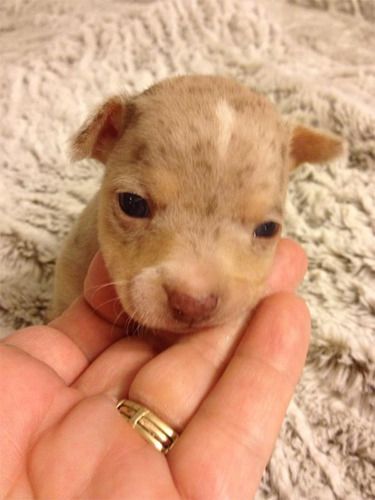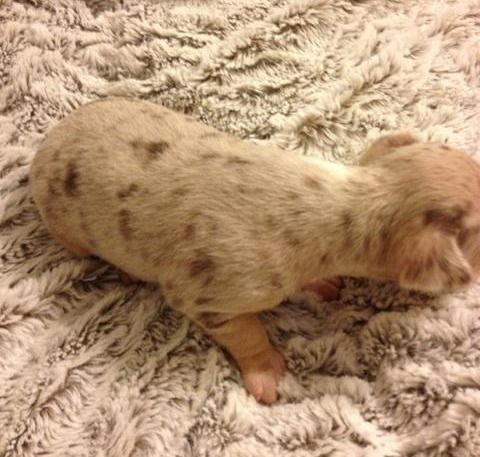 So much more merling than Mage..and so very, very cute! <3 He looks like a little dalmatian.
He's going to be named Reuben, I'm sure I will be calling him Roo along with a million other nicknames like all my pets.
Thank you for reading, everyone.