Discussion Starter
•
#1
•
Rubi was pregnant again. It's part of why I havent been around, because she's been keeping me busy with worry! lol Well, last night, I finally went to bed about 2am, about 2:30am as I was just dozing off finally, I woke to her whimpering and yelping. I knew instantly she was in labor. Well, I was up until about 6:30, and after not getting any sleep last night or the night before due to pain and insomnia, I dozed off until around 11:30am. She still had not pushed out a pup! Worried, I called the vets, luckily they were open on a Saturday, we drove out immediately. Unfortunately, it's an hours drive, but was well worth it! He gave her a oxytoxin shot to try to induce her into harder labor, but it did nothing. She was just too exhausted at this point. So they had to do an emergency cesarian on her, and spay while they were in there too. She is resting at home with her 2 surviving pups, one passed away, as I dont think he was developed like the others, and he was less than half their size!
Anyways, here's what you are all waiting on! Pictures!!
Rubi passed out still from the surgery and the two pups. The black/white is a girl, the black/tan is the boy.
The black and white little girl, she has a perfect teardrop on the top of her head!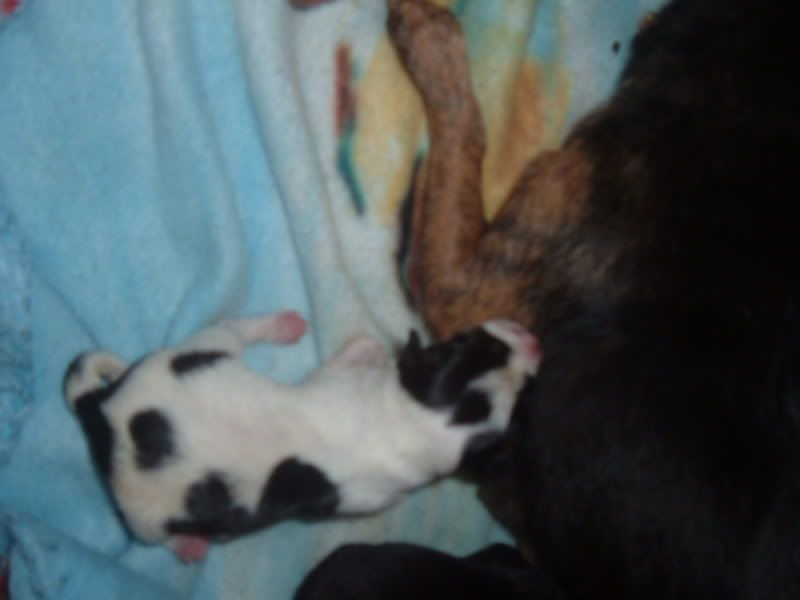 And the darling little boy that unfortunately did not make it. RIP sweet sweet boy!