Discussion Starter
•
#1
•
so when i woke up again from our nap together. dexter decided to paw at my eye...like right inside of my right eye
it hurt for a couple mins but wow! he sure knows where to aim -_-; i think he's still cranky from all the stuff that happened yesterday
he made this pose after he did his good deed :|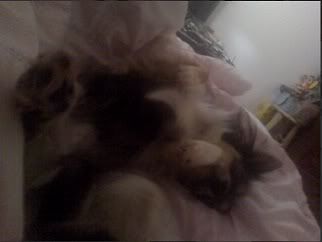 "mommy i'm still cute i didn't do anything!"
bonkers! now he's sleeping and sighing LOL
it sucks you cant get mad at a chi
i'm sorry the picture qualities have been horrible lately. last night and today's were taken by my cellphone lol:daisy:
has anyone elses chi done this? jeez! so far he's pawed at my lips, cheeks, nose, legs, arms, and now eye! thank god they dont have sharp claws like cats do
P.S: i put a winking face as the thread emoicon because that's the face i made when he did it -_-; hehe!