Discussion Starter
·
#1
·
She has a vet appt. today at 3:00 to get a thorough exam. I just don't know if it is all emotional or if there is some underlying issue.
First of all, the breeder sold her to us when she was 6 weeks old. I know (now) that is partly to blame for some of her issues. Plus when she was a few months old she was traumatized when my sister's German Shepard tried to eat her. Then about a year ago we got Cody and a few months after that Callie. So what I have now is a little chi girl that is not happy at all and seems frightened of everything.
About 2 weeks ago, she hid in the corner for no reason. I didn't know if she had some sort of breakdown or if she was physically ill.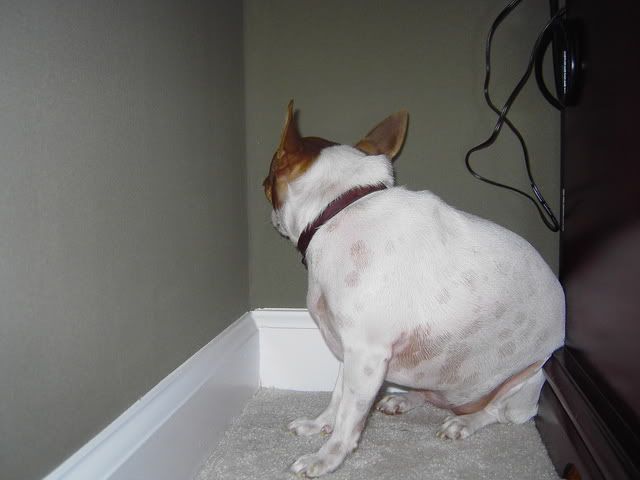 I took her to the vet and he took a stool sample but didn't really find anything wrong. He said she was acting like a dog in pain and prescribed some tummy medicine for her. It did seem to make her feel better. She was more social but still didn't seem "happy".
Well a few days ago she started peeing all over the house. It was only small amounts so I thought maybe she had some sort of infection. Either that or she was acting out. Then a couple of days ago she pooped in OUR bed! :x She is the only dog that sleeps with us. I decided then that she was sleeping with the puppies whether she had a physical problem or not. I put her in the exercise pen with them night before last. She whined until about 4AM and then settled down. We took her out a couple of times during the night and she was "sick". I don't know if it was because she was upset or not. She slept great last night with no whining. She asked to go out this morning and then went right back up to the pen.
I just don't know if I should keep the appt. today or just be more patient with her. Oh, I forgot to mention that she has been on anti-anxiety med. for several months. It did seem to be mellowing her out a bit but now this. Yesterday she didn't have any accidents in the house but did hide under the furniture for a while. Does anyone that had the patience to read all this :wink: have any suggestions or an opinion on whether I should keep the vet appt. today?