Discussion Starter
•
#1
•
Well I declined one show due to still being ill but today I was determined, I woke at 6am feeling groggy but still soldiered on. I arrived a the show i plenty of time and surprised to find no one asked for my entry ticket or parking pass. I showed my disabled badge and that was it.
Inside the hall was laid out really well and for once I found it easy to find the ring I would be in. I usually find myself walking round in circles looking for the catalogues, toilets, ring, etc..
I looked at a few shops before heading to the ring and let Red have a walk aroudnd and get a feel of the table. He seemd so much more confident as I have been spending a lot of time at home building his confidence and getting used to being touched all over.
Next thing I knew I was standing next to his breeder who commented on how well Red was looking and as usual give me a few helpful tips. Never fails to add to my knowledge each time we speak.
In a class of 11 I was optimistic, this was our first class this year with 5 months off from any training or anything, would Red regress, would he go back to cowering and collapsing when the judge approached? I kept positive and wow Red was amazing, he did back off a little when the judge came over but nowhere as bad as he used to be. He give a lovely show that had me beaming with pride.
We never got placed but seeing my little lad strutting his stuff like never before made this a brilliant day out. I smiled and smiled and smiled, yep did I tell ya I smiled like a cheshire cat..
I then went and bought Red a Swarovskl Collar, it was rather pricey
but Red deserved it. :foxes_207: Actually I also bought him a lead to go with the collar another bed and a new toy and other stuff.
On the way home the 85 mile drive felt like minutes as I danced away to the Olly Murs and chatted with Red. Couldn't help myself I was jsut so pleased with Red.
I got a few weird looks at the show as I had my oxygen tube on but it helped me for my time in the ring.
So Kudos if you read all that now for the photot's of Red in his collar, sorry I never took my camera to the show.
Okay I knows yous want a photo of mees wearing my new collar but I ams sure I saws some chicken somewhere.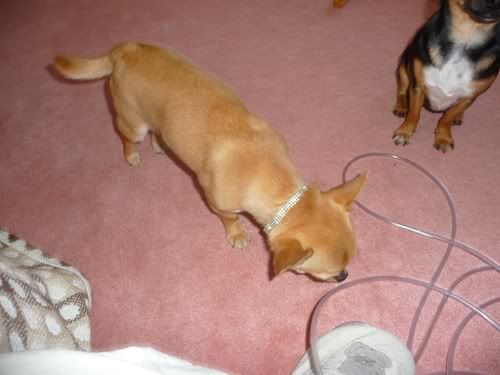 I knows there was sum chicken yum yum, neva mind photo's dis chicken is much betta.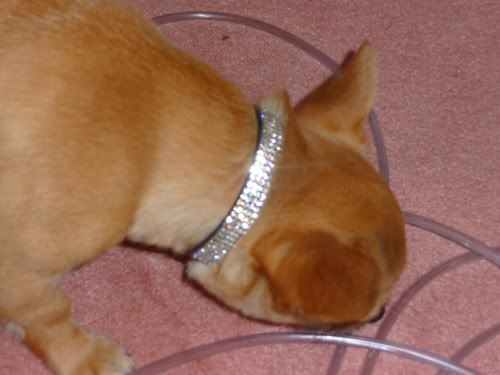 No mam I am not gonna look at ya, I no want my photo taken.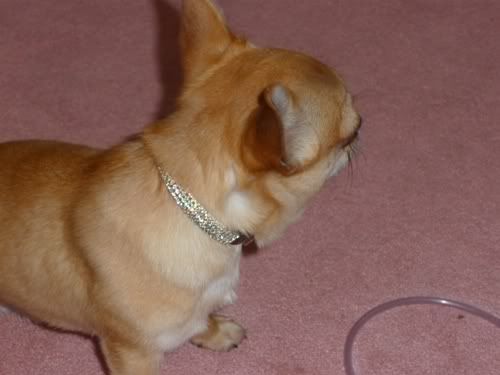 Ma I'ms tired now, cans I get up onto the settee I no really wanna have mees photo taken anymore.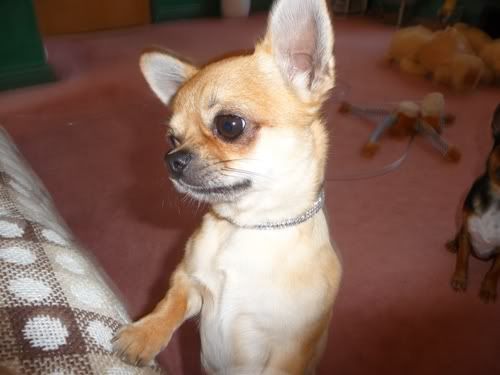 Red, you are a son to be proud of ....yes you too Jake... x x x from mummy.