Discussion Starter
·
#1
·
As I mentioned in another of my picture threads, it was Jazz's Vet day today. She needed her routine shots except for her rabies, which I get separately at one of the yearly rabies clinics. It's lower cost, but I don't do it for that reason. I like keeping a few degrees of separation between that one and the rest of the shots, just so there's less impact on their systems. I always bring the other one along, primarily for the socialization. Though I also wanted to get Tango weighed because it seemed like he was adding a little weight. Nope! He's 3 lbs 11 ozs, Jazz is 3 lbs 10 ozs, they're right about where they always are.
And we're on our way! The dogs seem to be saying "You tricked us, didn't you?"
Here's the brand new, just built Vet clinic with my white Hyundai parked out front.
The lobby, and one of the waiting areas:
Dr. Moore who loves my dogs!
We went for a walk after the Vet's so they could go potty, because we had a couple more errands to run before we got home.
Tango was so sweet. He kept checking Jazz out once we were back in the car, (she was whining a tiny bit) to make sure she was OK. Typically it's usually Jazz who's trying to get him to pay attention to her!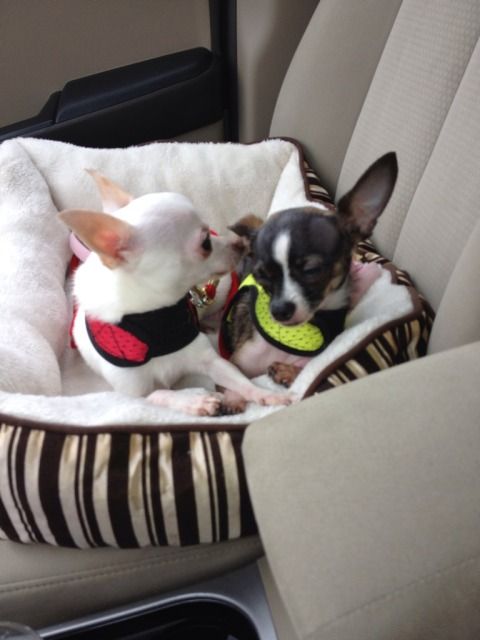 At the Pet Store. I don't know WHY Jazz felt it necessary to stand on her brother.
And we're finally on our way home. I wore them out!
Though they did at least open their eyes when I said the T word (treat!)
I LOVE this shot! Their little crossed paws OMG!!