Discussion Starter
•
#1
•
My MIL is in town for the weekend and she brought her chi baby, Kita. Today my sis-in-law brought her chi baby, Peeco, over and we had a chi family reunion. Kita and Peeco are litter mates and they have the same father as Neeci. I got a few pictures of Kita and Peeco together but I couldn't get any of Neeci with them. I could only get Kita and Peeco to stay still together on the trampoline and Neeci is afraid to walk on the trampoline. Here are a few pictures from today.
Neeci
Peeco
Kita
Kita and Peeco together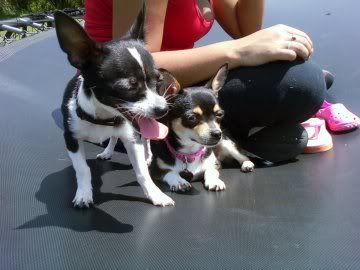 You can't really tell because of the angle of the pictures but Kita is huge compared to Peeco. Her head is much larger and she is very short and cobby. Peeco is much thinner with much more delicate bone. She looks twice his size but I don't really know their exact weights right now. Peeco is about 2.5 lbs but I don't know Kita's weight. Peeco was the only male in the litter of 5 and the littlest. This is funny to me because I thought that male dogs tended to be a little bigger than females.