My sister has an arrangement with the artist & makes Lighted Glass Blocks, they can be used as night-lights or just for decoration. They are 8"x8". Normally she sells them for $35.00 + $10.95 shipping, but has agreed to offer the shipping included here
Just 1 of each color is available. PM Me if you are interested. She has lots of other breeds available in both blocks & tile pictures
Welcome to Jenz Creationz Unique canine breed gifts, over 100 AKC breeds available
but is just offering the deal here. (If you see any breeds or things you would like on her site, pm me and I'll ask her price on them & availability). I know she has a couple of christmas scene ones, I know danes for one, pomeranian & I think chow chow.
Red Chihuahua Block $30.00 includes shipping
Red Chihuahua Block Back
Red Chihuahua Block Lit Up
Red Ribbon around for decoration:
Green Chihuahua: $30.00 includes shipping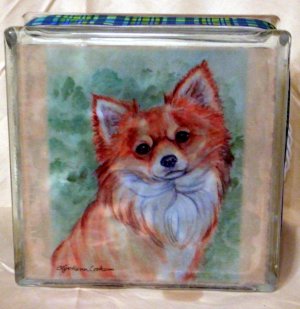 Green Chihuahua Back:
Green Ribbon around
I am *trying* to convince her to make some tile pictures and/or more blocks with chihuahuas on them, or custom made ones, these 2 images are the only chihuahuas the artist has done though. I've been bugging her for a while to make me a "Rainbow Bridge" block for Sebastian, I think that would be way awesome. She's just super busy.