Discussion Starter
·
#1
·
Hi All,
Took Chloe for her 2nd puppy shot (1st since I've had her) which I was pretty worried about because Axle has terrible vaccine reactions (won't get out of bed for 12 hrs even to eat, drink or pee, screams when touched).
Vet said we should spare her the anti-histimine shot before we know she has a problem as it's an extra needle, but keep a close eye on her.
My poor baby screamed the place down when she had her vaccination and took herself to bed as soon as we got home. I checked in on her every 15 mins and about 1.5 hours after her vaccination her little face blew up like a balloon
We rushed her straight back to the vets and they saw us immediately. Poor baby had to have 2 more shots, an anti-histamine and an anti-inflammatory, she was so upset she peed all over me with each shot. Had a chat with the vet about titering both her and Axle and she thinks it's a good idea after they have their 12 month booster. It's $180 each dog but it only has to be done every 3 years so I don't mind.
Baby girl was on the mend 4 hours later and was back to her pretty little self the next morning. She had a big fuss made over her and got lots of cuddles. Her grandma (who has a particular soft spot for this little girl) even drove 1.5 hrs to come and give her some extra attention which was most appreciated.
Here are some pics:
Chloe with her swollen face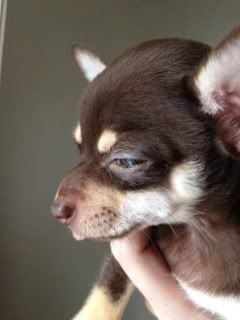 Next morning back to normal