Discussion Starter
•
#1
•
We were lucky enough to organise a little clothing exchange with Miss Elaine to try and get some use out of clothes that other wise wouldn't have been worn. We were very lucky to receive 2 things in our Doggie Couture Shop wish list! Thankyou so much sweetie, we are so pleased!
Wooflink Tea Party Top - I'm a pretty girl in a pretty top don'tcha know!
Basil recieved a juicy couture polo in the mail today but he wasn't in the mood for pictures! He is fine with photobombing for treats though
Wooflink Joy Hoodie, Basil knows he is getting the vintage rock hoodie to co-ordinate some time in the future, he was wondering where his is. Olive is not really a hood-up kinda gal!
Much better
We also ordered two little angora jumpers from Miss Elaine and my word they are wonderful, I am not sure how many she has left but I would fight for them! The quality is fantastic, they are suuuuper cute and the price is frankly, crazily low. We ordered Olive a size 8 as she is so long but where she is tiny around the ribs they are a bit big but I kinda like it. She looks snug!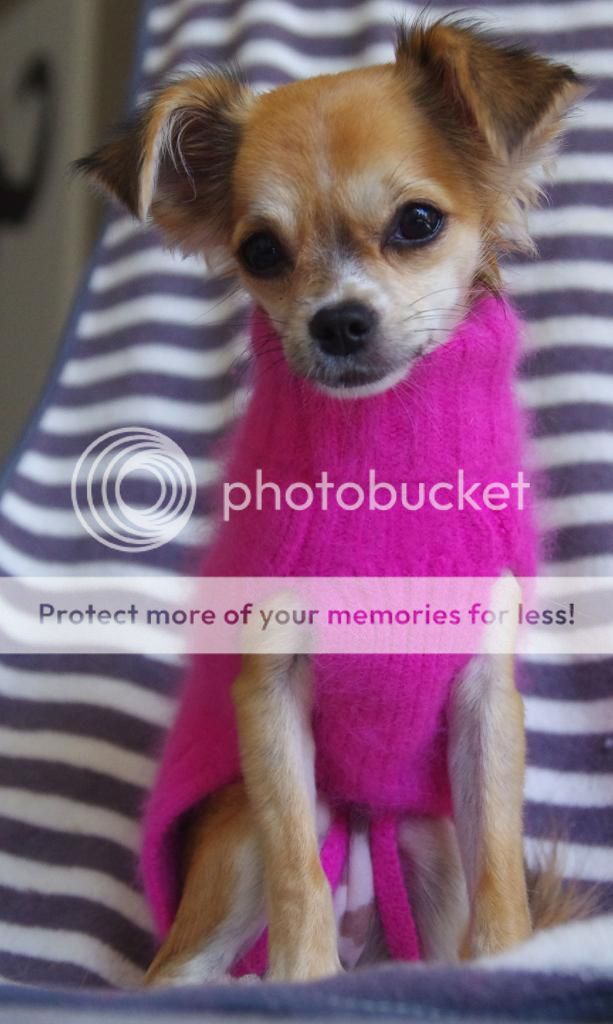 Iz giz you a kiss now Mumma, for you to send to Miss Elaine to say Fanks
Ok, Bored now!
No photos please. - I told you B Dog wasn't in the mood today poor chap. His skin is calming down nicely though