So I've been carrying out a little experiment for the past few days. Twice a day, per the instructions, I've been using Leba III Dental Spray on Teddy. I got really good results the last time I used it, but I wanted to show the progression on a daily basis from yellow to white teeth. I keep recommending the Leba III Dental Spray to folks here on CP.. but I wanted to back up my opinion with hard evidence.
Leba III Dog & Cat Dental Spray
My routine is: First thing in the morning I spray Teddy's teeth with the Leba. After waiting at least 30 minutes, I brush his teeth with a toothbrush and water (no dog toothpaste, as it interferes with the spray). In the evening, after he has been done eating for at least 30 minutes, I spray his teeth a second time and then we go to bed.
He gets two sprays a day (no food or water 30 minutes before or after) and his teeth are brushed gently for about a minute with nothing but a toothbrush and water. I take the pictures each morning after his teeth are sprayed the first time and brushed.
The only real chew he has had is a bully stick and he eats primarily canned food (Weruva).
Tuesday, 12/20/11:
Prior to the first picture being taken, Teddy had been off of the Leba for about 2 weeks. In that time a stinky yellow gunk and brown plaque had accumulated around his gumline. It smelled very sour. You can see the red inflammation around his gumline. His gums bleed easily at this point.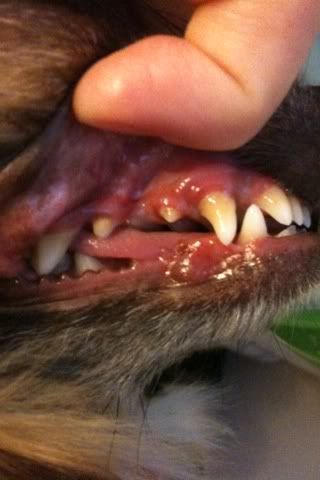 Wednesday, 12/21/11:
After one day of treatment, some of the soft yellow gunk has been scraped away but the hard brown plaque still remains close to the top of the tooth along the gumline. (It's easiest to see on his back molars-- I wish I had taken a better picture of them.)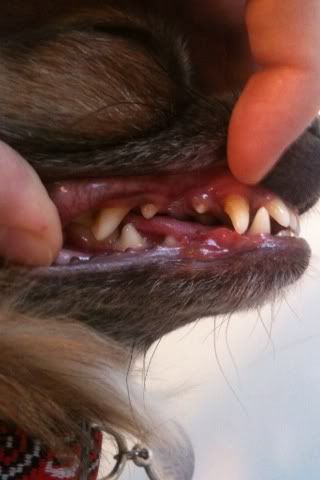 Thursday, 12/22/11:
After two days of treatment, you can still see the hard brown plaque along the gumline, but the bottom of the tooth is starting to appear whiter.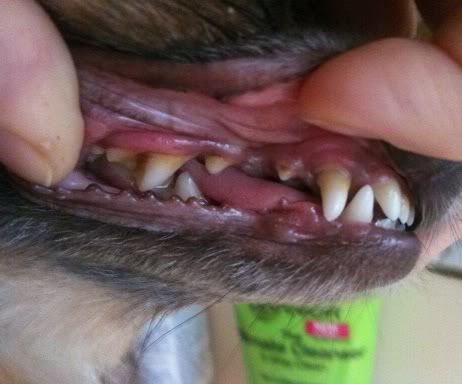 Friday, 12/23/11:
Finally some of the brown plaque is starting to fade away. His molars are looking a little cleaner too.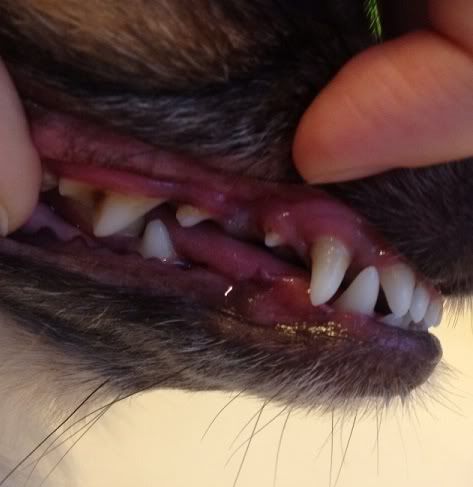 Saturday, 12/24/11:
There is very little plaque around his canines and incisors now. His molars are looking cleaner, with the majority of the plaque focused around his gumline and the indentation in the middle of the tooth. His gums are pink instead of red and they no longer bleed when I brush his teeth.
Sunday, 12/25/11: