I have very poor skills and my Peanut and Finn are not traditionally photogenic. But they are beautiful, loving companions regardless.
Hope you like the photos!
Peanut modeling her red Puppia harness generously donated by Chanel and her wonderful Mom. Peanut is a goodwill ambassador for rescued dogs that have been adopted. She is wearing this harness at all her public appearances!
"Mommy, I is a rock climber!" Peanut in the garden.
Finn is not as adventurous and prefers to sit in Mom's lap.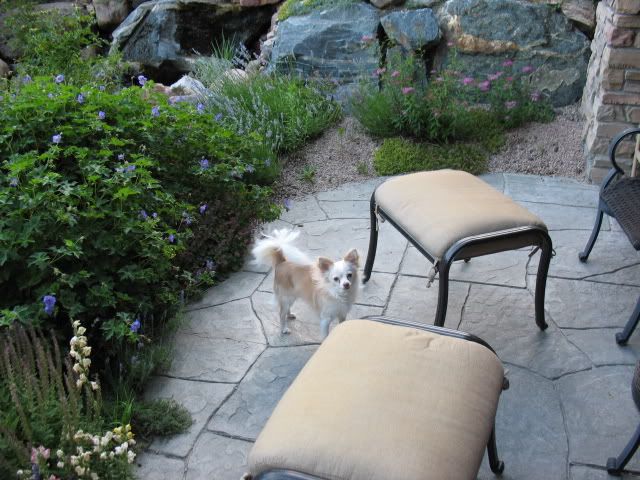 It's so hard for me to get a good photo of Finn. He was distracted by a noise, and I was lucky to catch him. "Mom, what's that?"
Finn heading out of the garden and back to his favorite couch in the "Chi Room." It's a sunroom just for their use. We renamed it the Chi Room (my boyfriend used to call it the Plant Room). My home we call the "Chi Shack"! My home is much different than his. You can't really tell by these photos, but his house is extravagant.
For all of you with beautiful gardens in humid climates, it is almost impossible to have this kind of flower garden here in DRY Colorado. My boyfriend (a very quiet, kind, introspective man) spends so much time caring for this lovely place, which includes a koi pond and many fish. My Chis love it. They do not have the run of the garden--because at the edge and in the air are predators, sigh--but they have a little room to scamper about. It makes me so happy to see them run free, even in just this little space.