Discussion Starter
•
#1
•
I am going to try to do a seperate thread spread out over time on my non chi furkids and since my hounds seems to be well loved I thought I would start with Gibbs.
Gibbs came to me in May 2004. He was 5 months old and named Speed. I was suppose to foster him for a week (yeah we see how well that worked out). His first hour in our house he came in and made himself right at home. He was chilling on the couch chasing my cat Nala etc then he came to a complete stop in front of our TV and stared at a Joe Gibbs (Redskins Coach & Nascar) press confrence. My husband looked at him and said your name is Gibbs. Oh my I knew I was screwed I have only had the hound an hour and my OH was naming him and taking him shopping. So yes I know hold the record for quickest foster failure- 2 hours!
Gibbs had a lot of limping issues and we thought it was because of poor breeding his front feet are pretty twisted but his prior owner cut all of his nails into the quick. :foxes15: I assume he might have issues with those front feet as he ages but so far so good.
Gibbs is the laziest clumsiest hound I have ever met. If it does not benefit him forget it he is not doing it. I have maybe made it 100 yards from my house before he refuses to walk any farther and he gives me a look as to say Mom we have a car. He thinks he is hot stuff as he is very well known in our community esp through the Gibbs years (2004-2008) and the Redskins, media and Joe Gibbs adores him). So he will look at you as to say do you know who I am. He is so sweet though and would never hurt a fly. Everyone is his BFF and he has yet to meet an enemy be it human, animal etc. He is BEYOND STUBBORN and full of himself and listens to pretty much only me! He can drive you crazy at times but when it comes down to it he is an awesome hound who I adore!
Me & Gibbs at a Redskin Event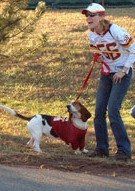 Gibbs being funny before Joe Gibbs arrived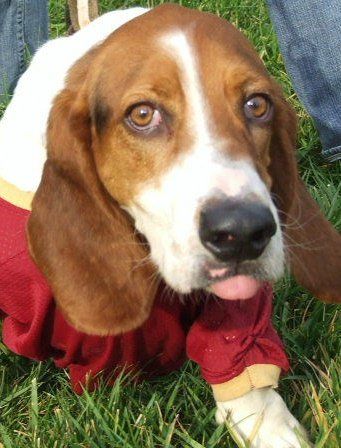 Gibbs in awe of Joe Gibbs
Gibbs Professional Photo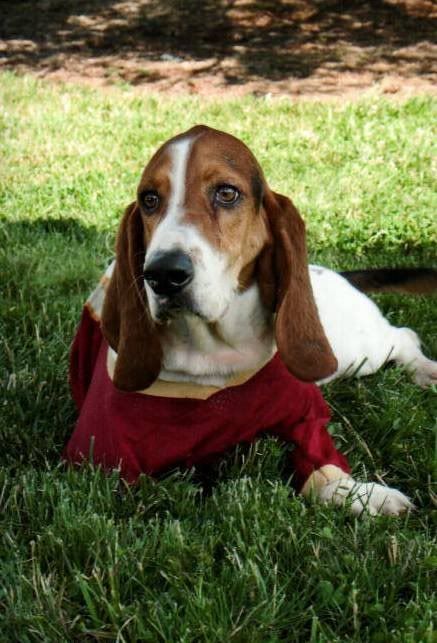 Love
Loves his chis