My oldest comes off the bus everyday, and I take Gizmo with me so he can do his potty thing. We wait in the foyer of my apartment complex.
I sit on a ledge, and he sits at my feet and intensly watches the glass doow for Chyanne's bus. He gets so excited when it comes, and when he sees her get off. Its adorable!
He has been growing up to be a great dog. I have had him for 2 months now (hes about 5 months old) and doesnt bark at strangers (although he prefers them not touch him). And is great with my 3 and 9 yr old.
Heres some pics of him waiting for the bus!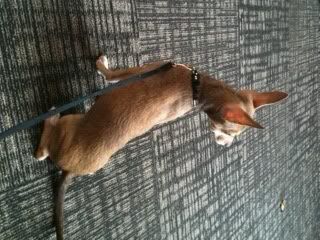 And Gizzy with his big ears. I am so thankful he didnt grow out of them.