I had family visiting all last week, from California. Also my two granddaughters who live close by spent a couple days with me, plus my daughter and her 18 month old (and my son in law when he got off work) were here every day to hang out with the family. Add to that my other 2 adult boys and a girlfriend or two, and I don't think Tango and Jazz have EVER had so much attention! They were perfectly behaved, let all these children love on them (we were very careful) and play with them and feed them treats and generally lavish them with love and attention.
In retrospect, I wish I'd taken more photos of the dogs and the kids together. But once all the adults, and siblings, and grandkids got together, managing a daily dose of 9 adults and 7 children under 9 years old left me little time for much of anything!
Kisses for River. :love2: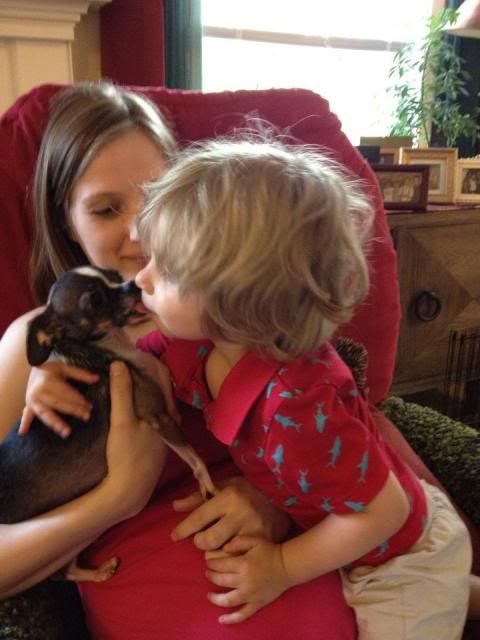 Savannah and Josie were in heaven that Tango and Jazz finally got calm enough that they would allow themselves to be held!
It took a while for the grandkids to understand that chasing after the dogs would result in nothing but frustration. However once they were persuaded to just sit (on the floor for the dogs' safety) they saw that Tango and Jazz were very happy to come over to them and curl up in the available laps. You'd have thought the girls had just won the lottery they were so blissfully happy when that happened! At home they have a German Shepherd, and though Brutus is wonderful with them, he certainly can't curl up in anyone's lap like the McChis can.