Discussion Starter
•
#1
•
Well Leila and I FINALLY got to petsmart today. I've been wanting to take her for a looong time and today I was free and the temp was 60,... so awesome day. The best part was they had their coats/fleeces/sweaters etc. clearanced and must have recently done it cuz they had a great selection. Leila got a lovely knit sweater
and a super soft girly fleece hoodie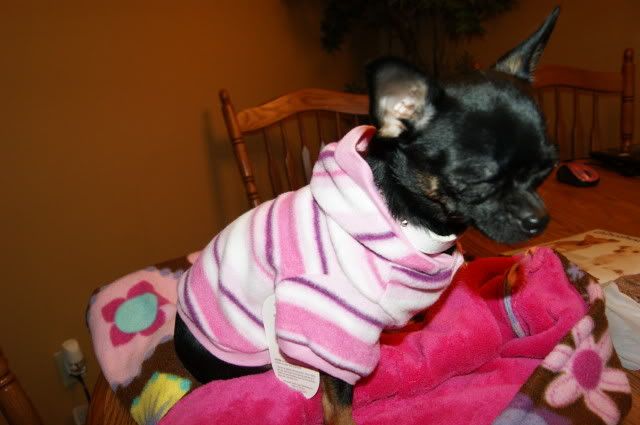 she wore her cheerleader dress there, and one lady came up and said "what kind of dog is this?" to which i responded "chihuahua" then she said "aww
HE'S
cute."
I hate that. I mean seriously she has a DRESS on, doesn't that clarify her sex?? I wouldnt put a cheerleader dress on a boy! One lady asked if she was a teacup. bahaha.. I said "no just a regular chihuahua". And she said,"But, she's so tiny!" I wasn't going to go into that whole deal.
Anyhoo I got a super cute small chihuahua puppy calendar for 75%off which came to 2 bucks. And she got a 3 pack of bones, which she loves.
The tops she got both had been 25 dollars (WHO would pay that??) I got them at $6.25 a piece.
I was gonna get her one of there fur collared sparkly winter coats but the color i liked they didn't have her size.