Discussion Starter
•
#1
•
Hello people!!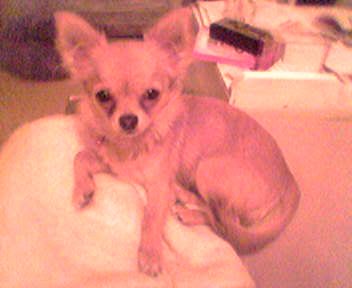 My gosh I cant believe I have not posted on here for sooooooooooooooo long!
You are going to have to fill me in on all the gossip!!
Minka is doing splendidly as always and her pictures have been posted up on the
www.Petlondon.com
website Look in Tiny Zoo (playtime), Confetti collar(walkies), Mini Tennis balls(playtime) And metallic heart step in harness (walkies).
I on the other hand am not doing so well, I have broken my ankle again after a very drunken birthday!!! that is the third time I have broken the same ankle! I'm so clumsy!
Anyway, I hope all of you and your Chi's are well!
Here is another pic of Minka and one of my best friends Sophie...Look how much she loves her!!
Love and hugs
:angel1:
Sydney and Minka xXxXxXx