Discussion Starter
·
#1
·
We recently adopted Rio. She is 9 weeks old & we think she is pretty cool. Knock on wood potty training to date has been a breeze (1 accident in the house which was my fault, not hers she fooled me with a back to back poo attack
)~ and she has learned to sit, she actually picked it up in about 5 minutes so I am hoping she will enjoy learning new tricks and pick them up as easily as she has her first one.
Snoozing first night home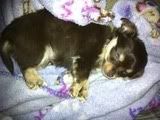 Rio's first day at the office ~ I am lucky that I am able to bring her to work as it makes potty training so much easier & paws down there is no one I would rather share my office with.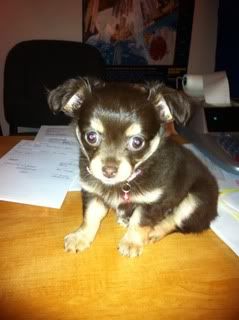 We also have 2 older cats Syd and Lola as well as rescue kitty who we were finding a home for once we vetted and got her back to health but then we realized she already was home... her name is KnK M&M Cookie(long story).
KnK and Rio are the best of friends ~ I think that little kittles actually thinks she is Rio's Mom. Syd and Lola I know thought Rio was a rodent at first and they still aren't real thrilled she is there but they are nice even when she is messing with them.
We're keeping up with Potty Training 101, getting ready to learn a new trick, and she is learning "office protocol"
We live in Pa.
Lots of good info here ~ thanks.