Discussion Starter
•
#1
•
Hi All,
Winston is here! And yes he is definitely a Winston, suits him nicely.
When we picked him up from the airport he was a bit nervous and was shaking like a typical Chi but as soon as he was warm and settled in the car he was fine and started giving me kisses. Thank goodness for his little fleece vest, its cold here today so he has had it on since he arrived.
He has eaten, drunk, peed and pooped so he is doing well. Ax is very excited about him, Chloe is wary but has been ok.
He is a very sweet loving little boy and seems to have taken to Craig and I equally. He's so cute I can't stop staring at him.
Here are a couple of quick pics I took, no doubt many more will follow in the next few days.
Profile - his muzzle is really short and stubby compared to my others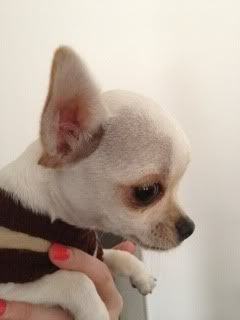 Having some dinner - he prefers to be hand fed at the moment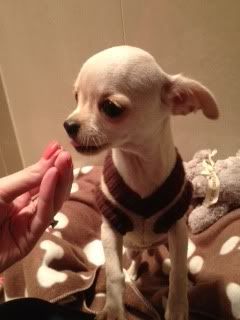 Checking out his new bed