I always like to take randy everywhere i go, but he usually stays in the car, or in the car with me. but today i just came back from walmart and brought home a few things. my mom got him a cage/kennel and tonite will be his first nite in it. i hope it goes well
. but anyway we went to walmart and we couldnt bring randy in the store
so my mom and i took turns to go in the store. she went in first while i waited at the front where you grab your shopping carts. and everytime somebody walked through the doors they saw randy and smiled. too bad they couldnt pet him.... he'll bite.
so anyway we were waiting, and waiting, and waiting. and she took 30 minutes (no surprise) so while we were waiting this is what we did. (at one point i got tired of holding hi so i let him down and he stayed tight to his mama.)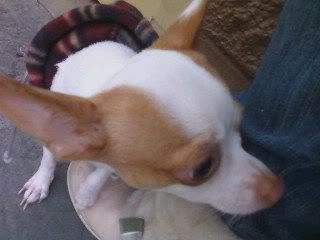 randy looking at the people pointing at him.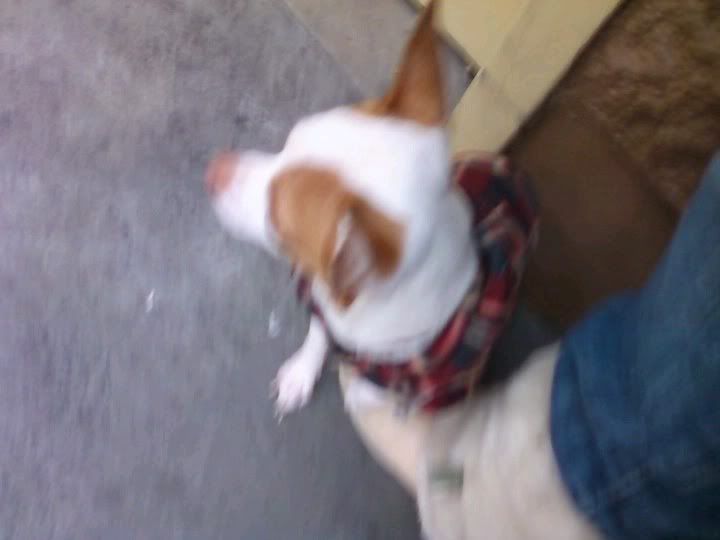 randy looking at more people looking at him.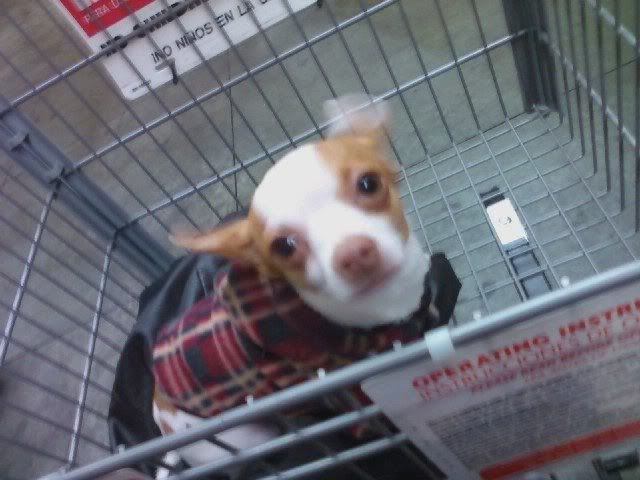 randy in a handicap person shopping cart. (for a minute)
I spotted it and had to walk over.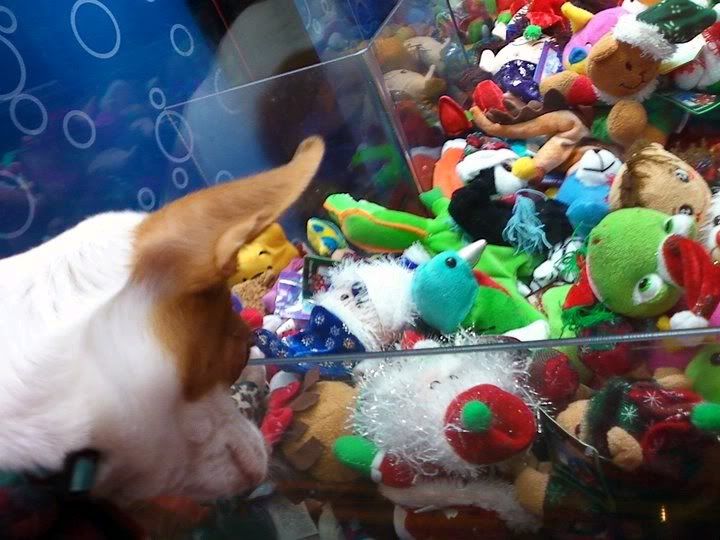 "i want that one mommy" (randy looking at the toys.)
I did try it 4 times but lost everytime. so i ended up buying him a toy. lol.
after all of this i walked over to the missing persons board that they usually have at walmart when you first enter. then there were a few 17, 18, and 19 year olds that walked in and this one girl was like "thats a cute a** dog". lol it was so wierd. and then they came back and she said "im sorry but your dog is so cute, how much do you want for him." and i was just alittle dumb stuck. and this (im guessing) 19 year old walks in front and pulls out a giant stack of hundreds. (they are obviously drug dealers or something bad to get all that money) and he said "200, 300, 400, 500" like he was so cool and i just kept saying no and then the girl was like come on its alrite she ain't gonna give him up." i just thought that was the funniest thing ever because no one has ever walked up to me like that besides my mom. lol. I was laughing at myself out loud i must of looked like a wierdo. lol. and then out walks my mom! and she watched him, i went inside and straight to the dog section, and brought him a few things. (theres a thread to what i got him that i just made)
but that was his adventure to walmart!