Discussion Starter
•
#1
•
We are finally home and getting a bit settled with the new puppy. We chose.....wait for it...........Wesley! For those of you that read my other threads, Wesley was the quiet one. It wasn't too difficult to choose even though all of the puppies were so cute and looked so much alike! There was another female as well from the same litter that looked liked the boys, but I don't think she was for sale. Anyways, I talked with the breeder for a few and wanted to hold Wesley. He was a bit shy but his little tail was always wagging. The other boy was very cute as well, but he was definitely the dominant one and showed it to the other two. I didn't want to have a strong dominant puppy come home to Khorra. I had put Wesley back in the pen with his littermates and was talking to the breeder for a bit and when I went back to the pen Wesley kept coming up to me and wagging his tail. It was so cute. I am positive I made the right choice.
Wesley didn't do so well in the car ride home. It was about an hour drive and he started drooling pretty bad from the start. I ended up putting him in a small carrier a little more than halfway home. By the time we got home he had thrown up twice. It was his first car ride plus the breeder had given him his third set of shots this morning. I'm hoping he won't continue to get carsick, I want to take these guys places!
When we got him home we set his little carrier outside of Khorra's pen so that they could sniff each other through the bars and also so that Wesley's tummy could settle down. We left them like that for awhile just letting Wesley take everything in and get a little used to the smell and sounds of our house. He was such a scared little thing, I felt so bad for him. After awhile I took him in the carrier into the living room and opened the door for him to come out. I tried coaxing him out for like 5 minutes and I could tell he really wanted to come because his little tail was wagging a mile a minute, but he just couldn't quite bring himself to do it. I finally had to lift him out. The poor little guy crawled around on the floor for awhile like how a scared cat slinks around. We all just gave him some space and had some toys there for him and let him sniff around. Khorra was still in her pen at this point but she could see what was going on and was practically vibrating with excitement to get out, lol. After awhile, we brought Khorra in and Khorra was so excited to see another little dog! They did the whole sniffing each other thing and Khorra was just bouncing around trying to get Wesley to play, but Wesley was still too nervous of his surroundings. Khorra was absolutely dogged (that's probably where that term came from, lol) and just wouldn't leave poor Wesley alone. He tried to play a little and there was a little bit of growling and dominance going on, but they were still both wagging their little tails the whole time. I still don't think they have figured out who is top dog yet. They both ended up on their backs a couple of times. Nothing serious though, and it was very cute. I finally had to put Khorra back in her pen because she just would not let up and settle down. I never would've figured her to be that hyper! I can't imagine what it would've been like if I had brought the hyper puppy home, lol! Right now Wesley is sleeping on the hubbys lap and Khorra is playing in her pen. Not sure what the next step is.
Oh, little update: we put Wesley in the pen with Khorra since they were both settled down so nicely. They are being so cute. Wesley has already pee'd and poo'd on the potty pad!! Khorra is so NOT good about that. She still will pee in her bed. She has not pee'd on the floor anywhere, only on the pee pads or on her bedding. Any suggestions? I worry she may teach Wesley bad habits! Hope it's the other way around.
We are thinking on changing Wesley's name to Dakota.
Ride home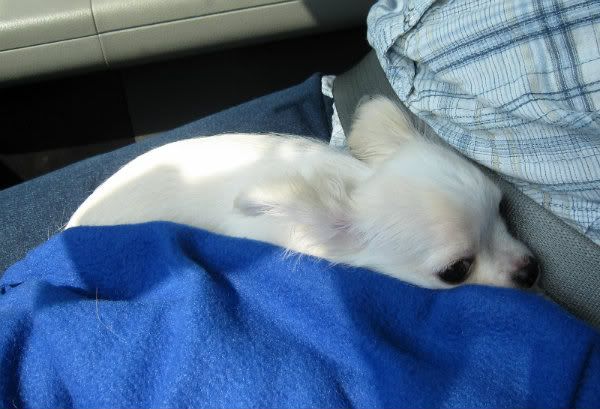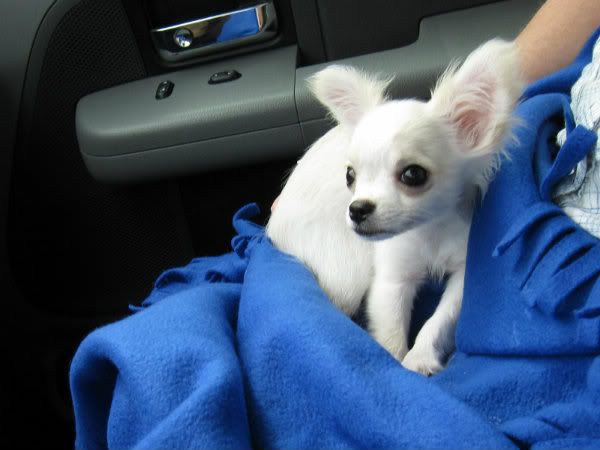 First meeting
Sensitive content, not recommended for those under 18
Show Content
Come play with me!