Discussion Starter
•
#1
•
Welp, everyone remembered what happened last time, but I really think that this time I WILL get my little girl. I have been talking to the breeder for about a week and a half now and it just feels right. I told the breeder everything that happened and she explained to me what happens with Hydrocephalus and all about liver shunts. I guess that made me feel more comfortable that she was knowledgeable about it, and took the time to explain so much to me. She is a long haired chocolate with some tan accents and such a dollbaby!! She's going to be 8 weeks on Wednesday and weighs 11 oz. right now. The breeder said I can have her depending on what the vet says is best for her, but not before 10 weeks..which I am okay with and I am glad that she is not letting her go early.
Anyways, here she is....
I'm debating between two names, Little Libby or Esmee. I am leaning towards Libby. She has a vet appointment on Tuesday and the breeder wanted me to come, but I can't, so I am going to see her on Wednesday.
Sorry for the quality of the pics..I was in Gatlinburg and didn't have much computer access, so the breeder picture texted them to me.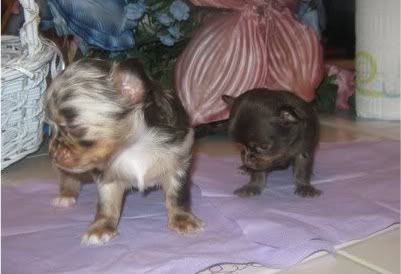 7 1/2 weeks