Discussion Starter
·
#1
·
Hi, I only just found your website a few days ago and its just the best chi site on the net! I hope you can be as helpful to me as you have been with the other threads I've read :lol:
My name's James, I'm 21 and run a small film company in the South West of England. I spend almost all of my time working from home, in one room on my own. I babysat my friends Chi while she was house hunting in France and I fell in love with him. For months I've been looking for a Chi of my own and now I've found one, I'm going up to put a deposit down tommorow.
Here he is...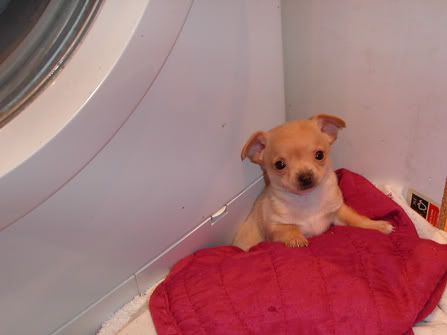 The Problem is, being male, I dont have the er - well natural ability with little things as the girls do so I'm really really worried I will struggle! I dont want to start out wrong and spend years correcting mistakes. Luckily the breeder has offered their help and my neighbours breed dogs so I should be able to keep him safe and healthy, but I'd really like to come on here and just chat and get some answers sometimes. I've read up alot, but nothing compares to learning from someone who has been through it, so I hope you wont mind me asking :lol:
I guess to start with I'd like some advice on what I should be doing now, in the few weeks before I pick him up. Should I be booking jabs for the months ahead, how big a pen should I make for him to play in? I was going to have it next to my desk so I can be close to him all the time.
I'm a bit lost at sea really and dont know where to start.
Any help would be appreciated. Many thanks, James
[/img]