Discussion Starter
•
#1
•
No name picked out yet LOL but I went last weekend to take a peek at a show prospect (been keeping an eye out for over a year....) & went again today to take another look--and brought her home! I've never been so nervous buying a dog knowing if she turns out "wrong" or if there is something majorly wrong that I'm not trained enough to see...UGH. But regardless we'll end up showing her & have fun with it. Hopefully she does us proud though!
She is SO mellow...and she fits in to our pack perfectly so far! Nobody even notices she's there...which is great for a newbie. haha She's so sweet & kissy though. She does great in new situations...but when you approach her she is a bit bashful like...puts her ears down & almost squats....before kissing you all over. haha Have to build up her confidence a bit I guess!
Here are a few snaps from when we were outside after getting home. White SUCKS to photograph...especially outside. UGH...but you get the idea. LOL
Any name suggestions would be helpful--I'm not necessarily looking for another "M" name honestly. Something special for a special little girl. hehe
"Oh hai Chi peeps!"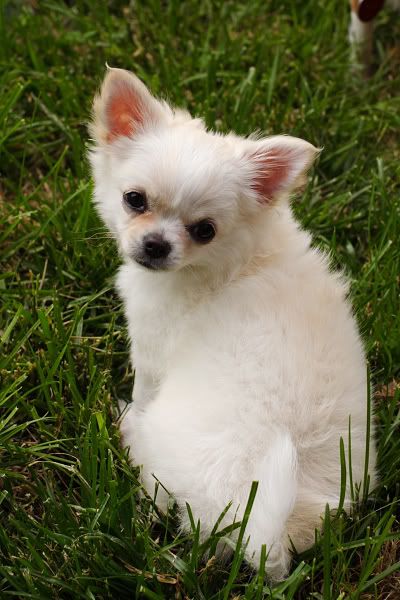 "I LUFF it outside...has da doggy door down pat & eberysing...but my offer mummy already told my new mummy dat I luff it outside so its no big deal..."
Mari says "what bwand are you?" haha
"Whatchu eatin?"
"Where youz guyz goin?"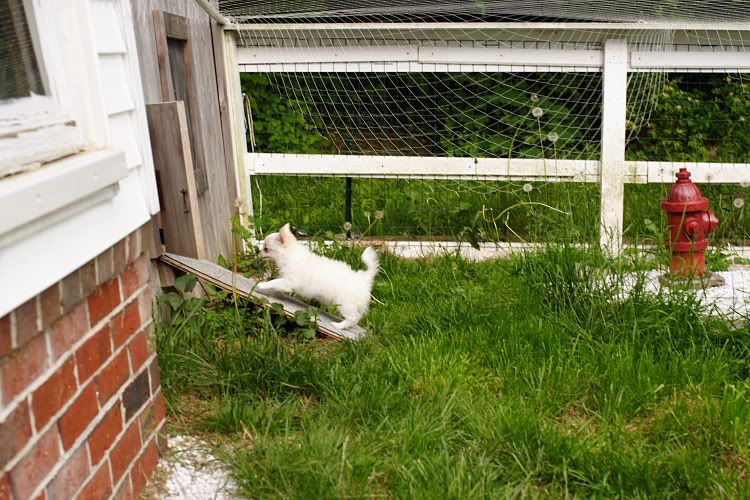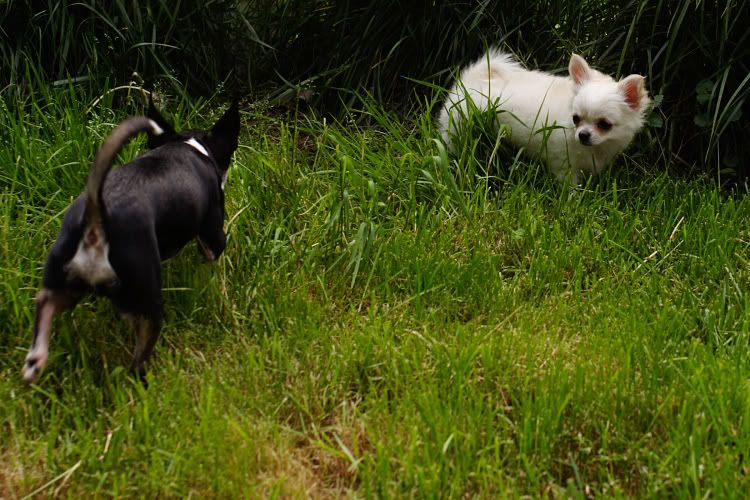 Can you find the puppy? LOL She loved digging in the tall grass probably trying to find a way out...but it was cute because she was almost digging in the grass to get through.
"I bootiful wight?"
"I wheely luff dis girl!" OMG she LOVES my 7mo niece! She was trying to get in her face & lick her to death but my niece wanted to pull her ears off so it was a no go for either. LOL
I didn't even ask Ivy do to this--but this is her very novice attempt at stacking. LOL (she probably did better than I would have--if her back legs were out more it would have been pretty decent..just backwards, right? hehe)