Discussion Starter
•
#1
•
See how happy is yook herez?...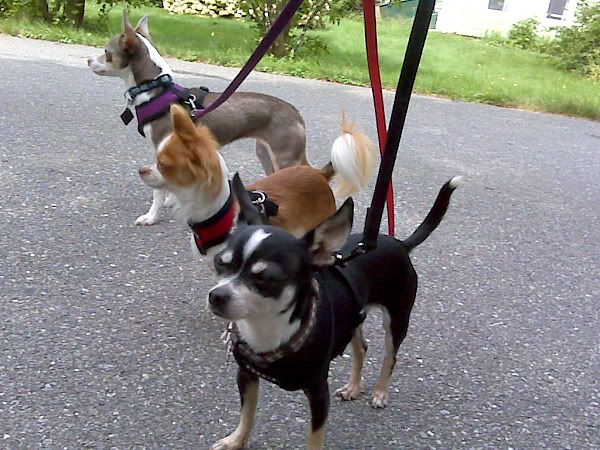 Dat because Iz did a good jobbie protecting deez girlz dis morning! Mum was taking us on a walkie. There iz a house dat has a cwazy dog dat wuns & wuns by us barking. I waz weady por dat toopid dog - I waz weady yike dis!
Well, jus before we gotz to dat house on dee obber side of da road deez obber two cwazy dogs I nebber seen before was wunnin' around crazy & when day seen us day started to bark! Do I turn awayz?...DO I??
Tilly didz! But nope, not me! Me & Mary-bell barkied at doze dogs. One waz a big poodle yooking white dog & de obber I sink mum said was a Boxer kind of dog dat had similar colors as ma sissy Maya. Day were big! For some reason mum didn't stop - she wanted me to keep walkin and ignore dem mean big doggers dat were yelling at us. Next sing I knows I was yoose! YAY - my brainz must work magically!! So whatz I do? I chase dem doggers & put on my big macho stance & hollar at them sings da best I could! Ya know what? Day run away from me!! I knowz I tough...I don't eben have to worry - I iz all dat anna bag a chips! Can you seen it?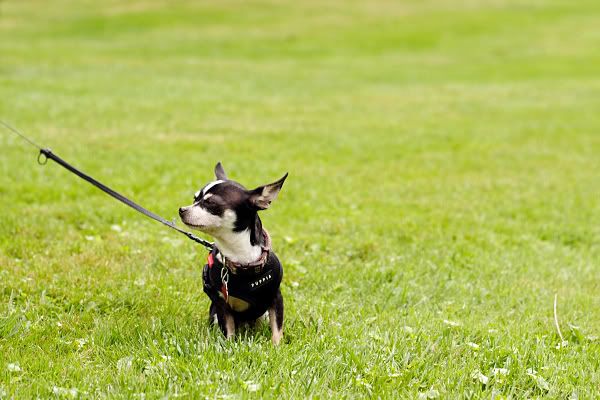 I was a badz boy dough. I didn't want to comez to mum so she started to leave me. So I followed dat girl. I eben walked by dat obber crazy dog across da street. He barked at me & I barked once at him. But he is just dumb in da head so I just kept folowing my pack. Day obviously needz me the most. After we got by doze doggers mum snatched me up by da harness & I yelped. Because she don't understand I can protect her a lot better not on dat toppid leash! She said I don't understand I cud hab been yunch for doze doggers. Ya wight mum...she underestimate my not eben 5 pounds of CHIRAWRAWR!!!