Today Jake told me this was his second time in his new posh carrier and I still hadn't taken any photo's, "but Jake I haven't got my camera with me". Jake ain't being fooled though as he know's I have my Iphone on me..
So here are a couple that I took today.. Click on pic for a bigger view
Just thougth I'd shows off my new harness when mummy took me to the park even though I was kept on the leader most of the time.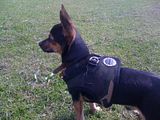 Nows for my new carrier, its so lovely but would have preferred it in blue
Like I need to look at the camera all the time... not