Discussion Starter
·
#1
·
Both my dear Kahlua, and Mia Zofia, have a favorite bear that they are obsessed with. Kahlua actually just received her 3rd (1986 vintage Snuggle bear toy...) and she just loves them. In fact, "bearshowing" is considered a verb here. No joke. Kahlua loves bearshowing. She's always bearshowing, to either Rob or I, or our friends. She prances about with it in her mouth, tail a wagging high and wide, ears tucked back and huge expressive eyes showing such joy and pride in her possession. Climbs up on the top of the couch and sneaks down someone's shoulder, nudging the bear gently in your face to show it. Bearshowing. :daisy: Love my baby girl...
Mia Zofia's bear, actually came from her previous owner. They said she loved it; and true to their word she does. She's peculiar, prefers to just play by her self with it; by nipping at parts of his clothes, shaking back and forth, dragging it all over the room. She is such a teeny tiny girl but still, if someone picks up her bear, you better believe she'll be up in your space demanding it be returned, LOL. She's such a darling. And has still gone on with no more episodes thank goodness. Anyway now that I've written a novel.. :coolwink: here are the photos to put everything into visual. =D
"new" bear... (these are getting harder and harder to find, LOL, but I keep stocking up!)
Her first bear... preserved.
I love the colors in this pic. The satin blanket with the couch just make it look very mystical.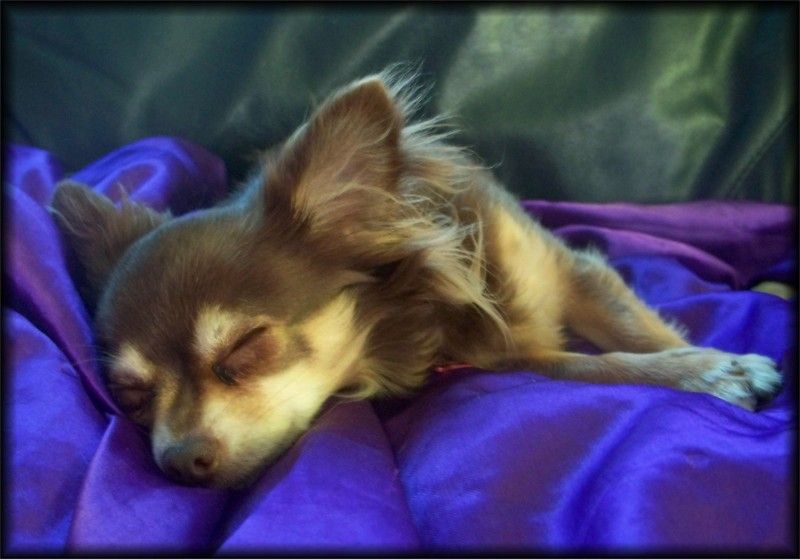 Zoey on her first day with us... very skeptical lol
Her, recently, nibbling her bear.. LOL
(More of Mia Zofia to come)