Discussion Starter
·
#1
·
We got a package from Wag.com today. It contained:
Here is Bandit's reaction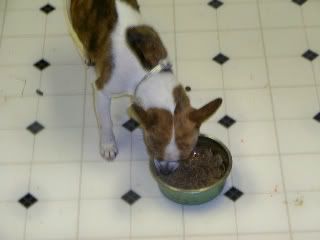 I have never seen him go after a food like this. The only time he has been this enthusiastic is with chicken jerky. I put the ZP on top of the little bit of Instinct kibble he had not eaten - he picked out the ZP and left the Instinct. It looks like I will be donating the Instinct to the local shelter.
We also got:
He was less impressed with this one. I had not planned on getting a bag to sneak him into stores, until I realized that I may need it when I go to my parents' house in the summer. I can't very well leave him in the car when I have to run into a store for the bathroom.
And this what missy Minx thought was the best part: