I picked up our wee little girl yesterday and boy was it a long journey for the both of us!
We have named her coco chanel (sticking with a trend here LOL) But her KC name is indigo dreamer
She is officially the smallest dog I have EVER seen in my life which is very cute, but makes me so concerned.
I will take her to the vets for a checkup today but since its sunday and they are only open for 1 hr, maybe they will tell us to go back tomorrow.
She is 19 weeks old and only weighs 1.75lbs, I mean the breeder did say she is the tiniest pom she has ever bred, but I wasn't expecting this! She is smaller than gucci was at that age and her bones are so thin??!!
She is a reputable KC breeder and was one of the ones recommended by the pomeranian club when I contacted them.
But these are the reason why I am concerned:
1.She has a very small frame and bone structure, so I am scared prada and gucci trample over her and she hurts herself.
2. her belly is MASSIVE! I don't know because I have never owned a pom before whether this is normal or if she has worms (hopefully the vet may know)
3. The tip of her tongue sticks out so I think she may have an over/under bite
4. She had watery diarrhea (but maybe this is because of us travelling and change of environment? Gucci had that when we first got him too)
5. She gets along fine with Gucci, but Prada growls and snaps at her literally EVERY time she goes near her.
(I am trying to give Prada chicken whenever chanel goes around so she can associate her to something good and always say NO when she starts growling, but so far... it has not worked at all!):foxes15:
Anyways, these are some of her photos and videos
She is just the cutest little thing but doesn't photo well because of her color
P.s the white bits on her coat are the Panacur worming treatment! She got it all over her so she needs a bath LOL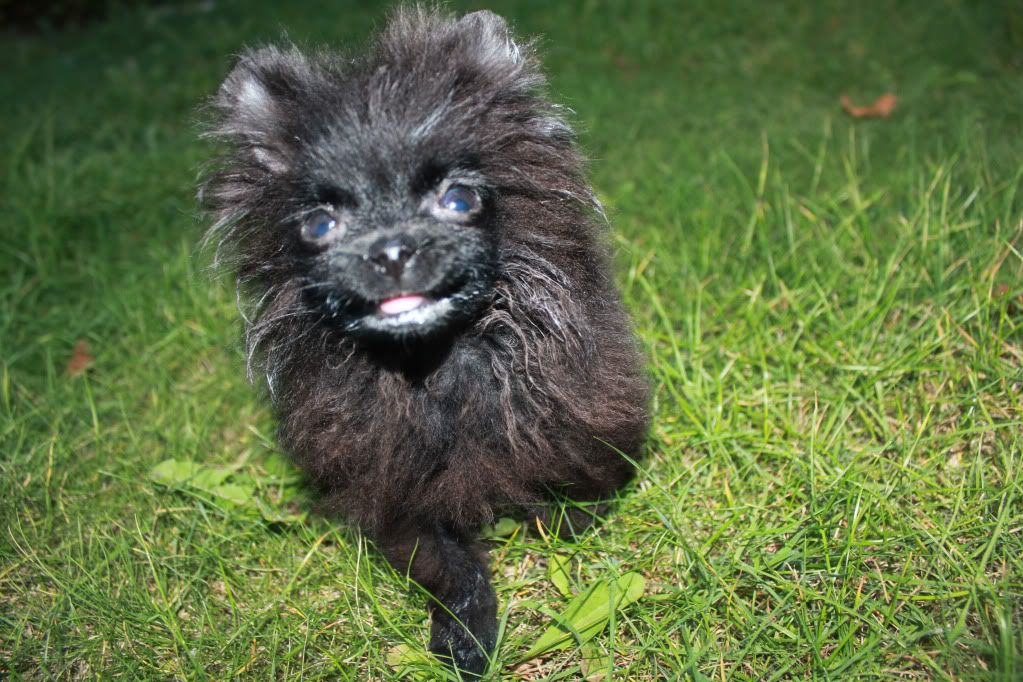 This is a video of us on our train journey home (click to play)