Discussion Starter
•
#1
•
They're growing up so quickly!! Luckily we have them for a few weeks still. They mingle nicely with the big Chi's & use a pee pad when they're out in the living room 99% of the time. When their in the pen in the office...it's a different story. At night & when I'm at work they use the pee pad 90% of the time but then they trash the pen at times meaning flipping over the pee pad, etc. Propper little puppies!! hehe
They're eating mainly dehydrated ZiwiPeak now with the occasional wet Ziwipeak. Little Mobie had a reaction to his distemper/adenovirus vac a couple weekends ago so he's on a slightly different vac schedule as the other two now. He just had some facial swelling but was right as rain a few hours after a shot of benedryl. But the other two have been handling the vacs a-ok. They all had their vet visit at the same time Mobie went in for the reaction & all are healthy as can be. Vet even commented on how well adjusted they appear being checked out & such. Made me a proud grandma. :daisy:
Anyway, my lot has (mostly) been enjoying the company of the puppies. Matilda is happy as a clam as she's always been very maternal. She's their official "nanny". hehe She cleans them & rolls over to "nurse" & all though she has nothing for them to nurse ON. Way too cute to watch her. The only one with a chip on his shoulder is Maxie. He always takes a couple months to warm up to new comers but I almost think he's enjoying growling at the puppies because he'll go sit on the bed they play on & wait for them to chase after him. hehe He's harmless...just growls & runs off. Such a funny grumpy old man.
Enough boring chit chat. Here are some pics of the gang....those on my FB will have already seen probably all of these so I apologize for the repeats!
This was a couple weeks ago when Matilda first started "mothering" the pups a bit.
Ivy playing with the boys last week:
Oooo, visitors!
The rest were all in the past several days...
(Mari is looking horrified at her puppies trying to chase her down for a quick sip LOL)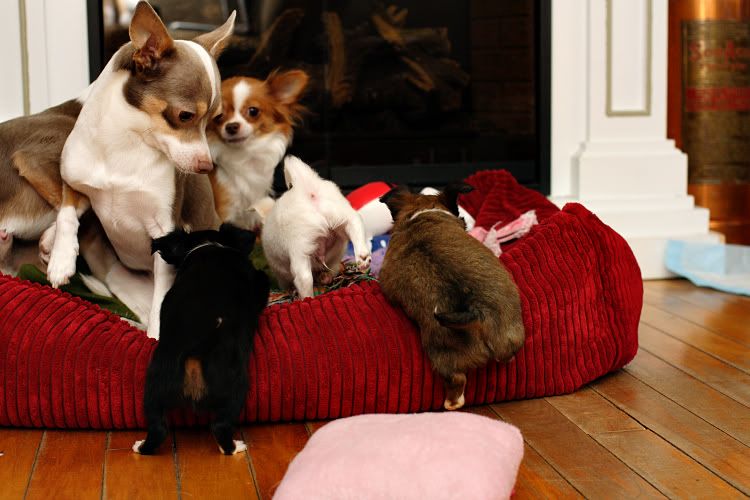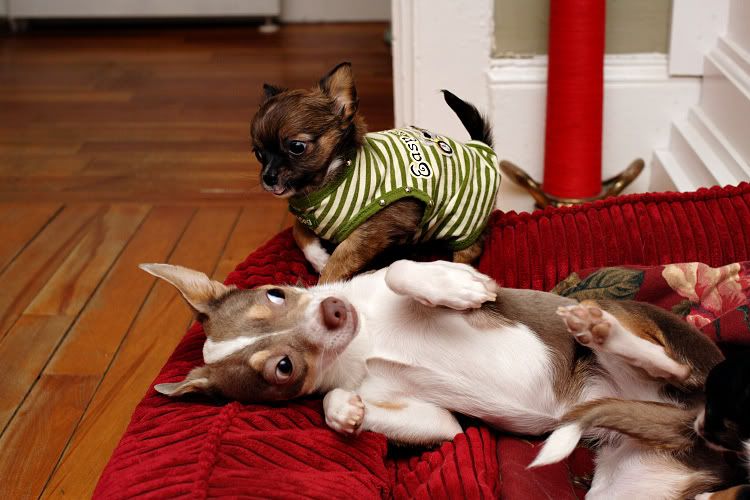 And these last few were from today.
Group shot from this afternoon after their bathies: