Discussion Starter
•
#1
•
ok so most of you here know i'm a chi crazy psycho ever since i got my precious leila.
I have periods where i'm looking at chis for sale and cool off periods. Well, i'm hot again...on the trail of another puppy that is.
I really would like to have one that is a little bit smaller than miss leila. She is certainly short enough, (not quite 8 in. high) and that's fine with me. But weight wise she is like 6 lbs and is a loony about food.
4-5 lbs and not so hungry would be nice. haha
Well her breeder just had a new litter the day after thanksgiving and it's 6 boys. lol But he still has a pup from leila's mamas final litter. She is going to be around 6 lbs he's estimating, and i have showed her pic to a couple of people on here. Even though i know she may be as big as leila, I can't help but want to go see her (and can't seem to get her out of my mind). And with her having the same dam as leila it makes it all the more tempting, i just love how sweet and loving and intelligent leila is.
This puppy (to me) is just stunning! And without further adieu.........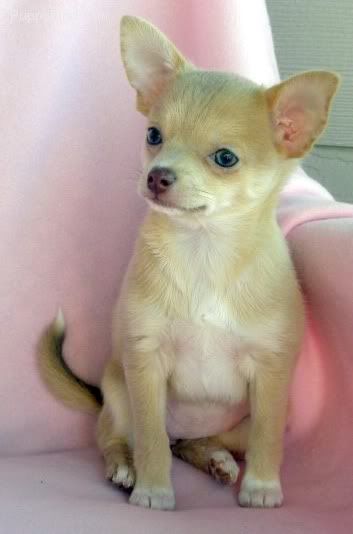 breeder describes her color as lavender fawn. whatever it is i love it, and her eyes are beautiful.