Discussion Starter
•
#1
•
Hello,
New here, but once I found the site, I had to post pictures of our chihuahuas...
This is Minnie when she was (I think) 3 months old...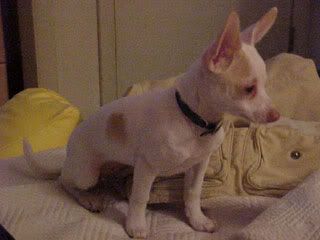 And this is her now..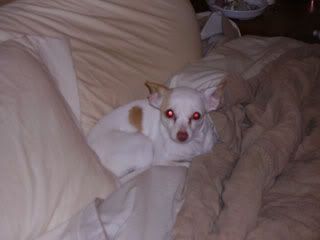 She's actually bigger than she looks in this picture. She is a firecracker, and I will get some video shot sometime soon so you guys can see her. I love her look, she has a dark brown spot on each side, one on her tail, and light brown around her eye and on her ears. I looked hard to find some chihuahuas with the pink nose like her, almost completely albino, but couldn't find any pics (have to look on here a bit more)
When my girlfriend told me she was going to look at some dogs, I said 'Do NOT come home with one' (we also have another dog and a cat). Of course she did, and I loved her from the second I held her....
And the new addition 2 days ago, this is Pearl:
Over and over, I said 'no more animals', but she wins again.
She was apparently abused, so "we" adopted her, and she has been pretty timid the last couple days, but she seems like she is starting to come out of her shell
She has only a nub of a tail, apparently they had thought that something was done to her, but after the doctor looked at her, they said she was born that way. She has much more of a light brown all over, and a black nose.
More to come later...