Discussion Starter
·
#1
·
Hi everyone!!!! I'm sorry I didn't post in a while but I've been busy. So here's the first part of all the pics! The 2nd part will be her fashion show and her new toy! Molly and I had such a great time!It was awesome! We felt like we were famous, I mean people were just stopping us on the street! As soon as we got out of the car these 2 girls stopped and asked if they could take a pic of Molly! And then we were able to go into Nordstrom with her! And Molly made a lot of different friends and now it seems like she's not that weary of stangers! After dinner we walked around and stuff and then the next day we saw a movie!!!! It was sooo funny, out of no where she just started growling!!! :lol: Ok, I'll stop talking and show you the pics! BTW, I'm sorry that 3 of them are kinda big :x !
Molly on the move in her new harness dress!
I like how this pic shows her shadow and the shadow of the camera.
Here's a nice pic of her harnessdress!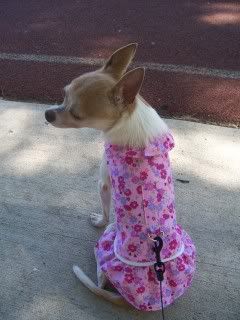 Molly enjoying a nice bellyrub!
Pretty Molly!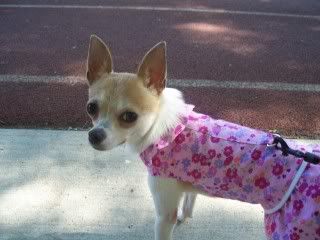 In the elevator on our way to the resturant!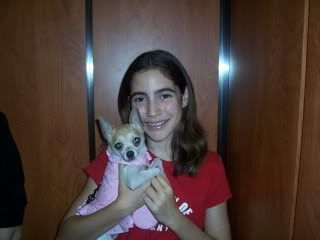 When we got there we ate outside and she got a complimentery bowl of water and plate of steak tar-tar!!!
Chomp! Chomp! Chomp!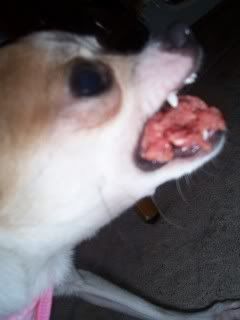 "Is there any more, mommy?" She finished the steak in about 5 seconds!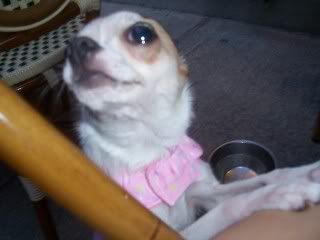 She likes to eat bread!
Smile!
Molly was trying to eat my food!!!
She's my baby!