Discussion Starter
•
#1
•
I am sure you have all been wondering how Morgan is. She had several vet checks over the last year and was found to be in great health other than a collapsed trachea. I am sure you remember her head shake, turned out that she had some build up in her ear canal. Deep enough down that it was not visible to the naked eye. The vet removed it about 6 months ago and she has not done the head shake since. :hello1: Oh, we also got her hair coming in thicker! She has more hair on her chest, the hair on her back and neck is thicker and it is even a little thicker on her scalp. She has a spider bite scar on one side though so she will never get her hair back there. She no longer has hypoglycemia and she put on some weight. The vet had always had her on a high protein food however it did not have enough fat I guess. She is now on a food higher in fat with about the same amount of protein. She is all around a much more happy healthy dog.
Sorry it took so long for me to get back on here, life was crazy for a while.
Now here are some pictures of my princess.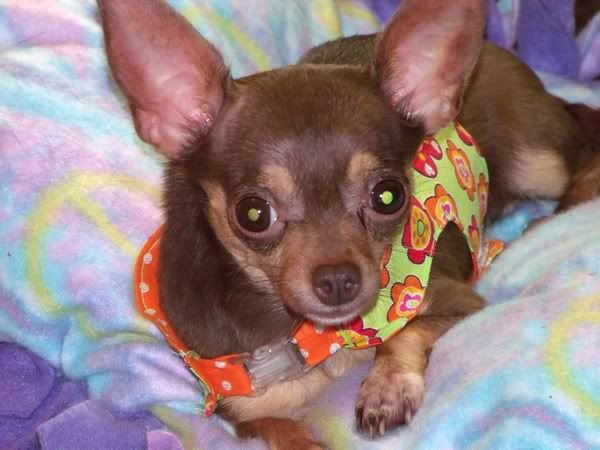 I made her this harness yesterday. She loves it.