Discussion Starter
•
#1
•
Many of you know that Chance was neutered Tuesday morning, and also had surgery to correct him being Cryptorchid. He went through a terrible time with recovery, and was so weak the first 2 nights that I was scared he wouldn't pull through it. Not to mention the swelling and bruising the poor boy has. It's been a long week for all of us, but I'm happy to report that he is doing some better. He is getting around slowly, and his personality is coming back. I did find that the swelling now has hard places all in it, and I'm not sure what that's about. I'll be taking him in Monday morning to have that checked out. But he seems to be coming around much better now.
Part of his normal morning routine is kissing and hugging Lexie. He absolutely adores her. He loves Gia as well, but they have the whole play thing going. He gives her kisses and love too, but he likes to wrestle with her more than anything. :lol: Anyway, I have not seen my baby be able to love his Sissy for several days now, and this morning with him feeling better, boy did she get some loving from her bubby.
Lexie stretching out.....ahhhhh, what a morning.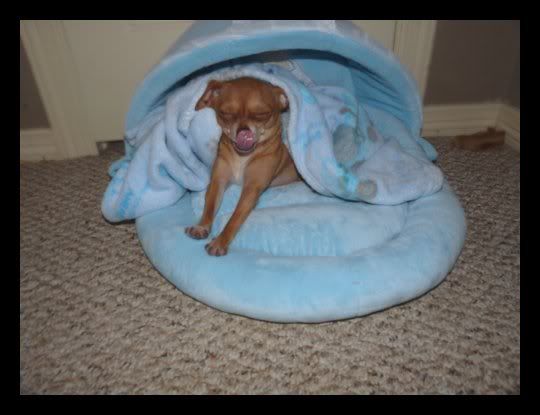 Oh gosh, not the morning love Bubby, I'm not done with my beauty rest.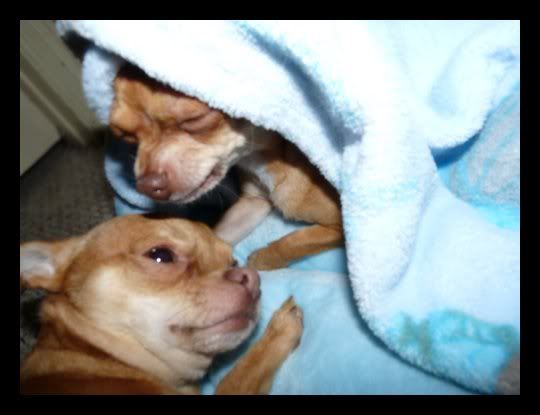 Oh wait a minute, I haven't got this kind of lovin' from Bubby in days.
My precious Bubby must be feeling better. That makes me so happy. I just love my Brother!