Discussion Starter
•
#1
•
Bear in mind ladies, these 2 little Chi's came from backyard breeders i.e. 2 families who only had a bitch and a dog they mate once a year, NOT a puppy farm. Chi pups cost between $1k and $1.5k here on Limited Register (meaning no showing or breeding with compulsory spaying).
All my worries were cleared yesterday when I saw a Vet (Uni Prof) who said they are in darn fine health with super great patellas, and not in the least bit "Nervous Nellies" as they mostly seem to be - neither of them batted an eyelid with stangers fawning all over them, trotted off and explored his surgery, came when called, despite there being a strange puppy in the room they were visiting, and sat on command (I was secretly proud). Just as well too because I don't do simpering, whimpering, shivering, pathetic, attention seeking brats well!!!
The golden boy is 12 weeks and the black/tan girl is 9 weeks and both weigh 1.4kgs = 3lb 1oz (does that indicate at this age that they'll be huge?) I don't know anything at all about Chi conformation except for the standard but on paper & in person is too hard for me to translate into a jumping jack puppy. I've also put up pics of the boy's parents, don't know if they're good, bad or indifferent either. The girls dad was really tall but her mum really tiny.
They'll both be desexed in 6 months once I know what their little teeth are doing ....
'Chiko' The Man ...
(He and I bonded the second we laid eyes on each other and have been inseparable albeit he also spends a lot of "alone time" with her whilst I'm busy -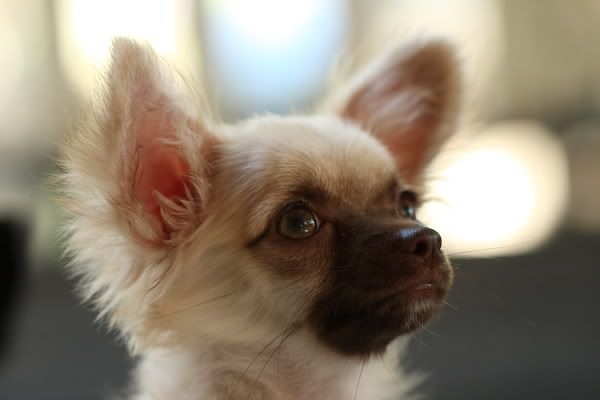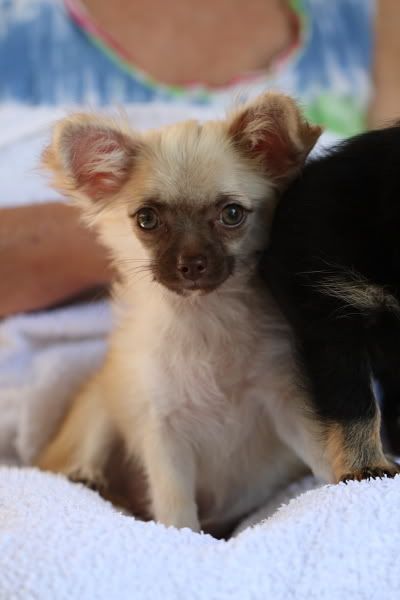 Chiko's Sire/Dam:
Bootiful 'Bella' :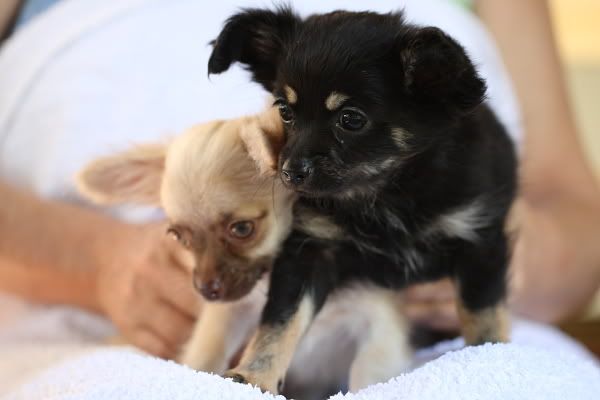 AND MY MARAUDING MASTIFFS ... "Boofa" & "Jessica" - Eng Mastiff x Rhodesian Ridgebacks - best dang dogs I ever had, head & shoulders above all my fancy smancy show stock over the years: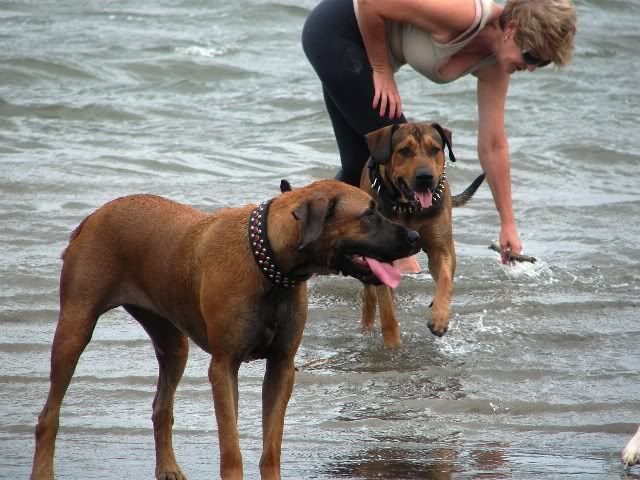 You'll notice there's 1 x missing cushion on this gorgeous LEATHER Chesterfield couch ... 2 nights later, all 3 cushions were decimated, chewed into teeny, weeny pieces that had to be vacuumed up ...