Discussion Starter
•
#1
•
With thanks to Tucker N Jasper, I am now attempting to post some pictures of my little Angels.. (thank you so much for the sticky thread tutorial!)
So I will start with the oldest first and that is our dearest Guilded Lilly... she is 12 years old and very wise... rather than joining in the youthful play of the others she sits and watches wondering why they put so much effort into play fighting when there is a good juicy treat to be had!
In this next picture is 7 year old Dandelion (right) and 3 year old Tessa (left)... They are Father and Daughter with completely different personalities... Dandelion is so soppy and loves his cuddles, whilst Tessa is not one for cuddles unles she wants something in return!
Next we have Daisy who is 5 years old.. she is Mother to Tessa. She is very quiet until she sees another dog in the neighbouring garden and then she has the loudest bark of them all, even though she is the smallest!!
And finally, but of course not least! Here is our newest arrival... Now 8 months old this is Alfie... He has to be involved in EVERYTHING.. utterly adorable!!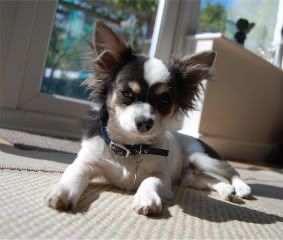 So this is the tribe... they get on so well and their favourite group pasttime is to howl along to any ambulance sirens they hear going by!
Oh and this is Alfie the first day we got him... the cutest picture ever so I have to include it...
Thank you for reading