Discussion Starter
•
#1
•
Well the pups are 1 wk old now and I got picture happy again. Once in awhile I get this way lol. Precious is finally over her shyness for the most part so I thought I would post some new pics of her and the babies that I took last night.
This was when they were born
This is 1 wk old. They are growing lol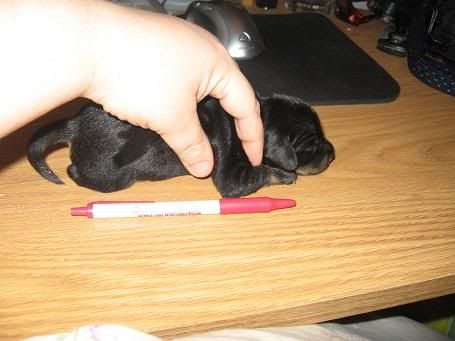 One of my favorites took last night
My babygirl looking so pretty ( as pretty as a new mommy can look lol)
I was able to snap one of just the babies while momma was eating before I put them back in their bed
And last one....This one was a priceless one that im glad i had camera ready at the time. I am babysitting my dad's new puppy (she was abandoned on his property at about 3 wks old) while he is out of town. She is only about 6 wks old and he couldn't leave her alone so I get to love her for a week... well this is what I caught the little sneaky girl doing last night while I was getting precious's food ready. It was just priceless. I don't think Precious knew whether to push her away or let her nurse lol. And yes she is actually trying to nurse on her lol. We later found her curled up next to precious's bed so I guess for a week she has become a foster mom lol. The puppy (Daisy) is as big at 6 wks as Precious is full grown lol. So cute.