Discussion Starter
•
#1
•
Lila's Secret Santa is Moni, NaNa, TucTuc, and MoJie! I am sooo surprised and very, very, very happy!!
Moni has been very sneaky in her pm's to me. She totally had be fooled and thinking someone else was my ss. Your naughty, but you totally made this a fun and exciting SS exchange!! Well done! Lol!!
Moni, I know that I already went on and on in a pm to you about how wonderful everything is, and how you totally spoiled us, but I want everyone else to know too!
You are an amazing SS and friend! You totally spoiled us. I know that you put a lot of thought, time, and effort in getting us the most perfect Christmas gifts. Lila and I thank you more than I can ever say.
Hugs to you and the chi's. Your a sweatheart!! Merry Christmas!!!
Lila's huge box of goodies! It was very heavy.
Lila with her loot. She can't wait to dig in!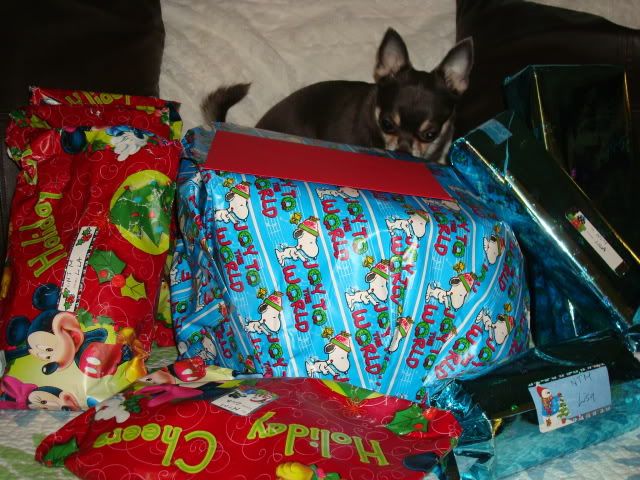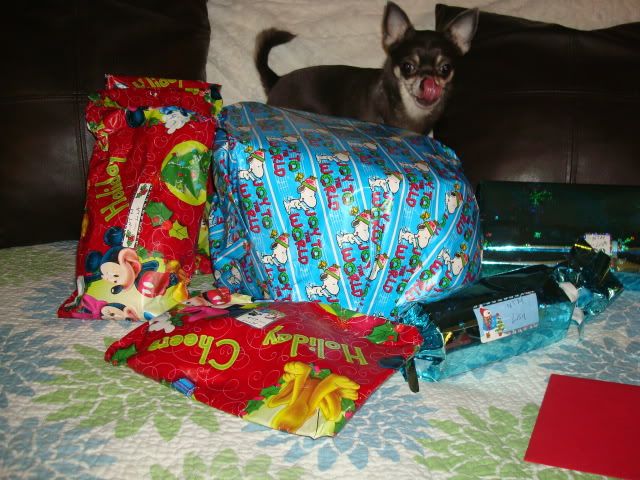 Lila's absolute favorite toys in the world are TY Beanie Babies dog toys. She loves them!!
She got a mouse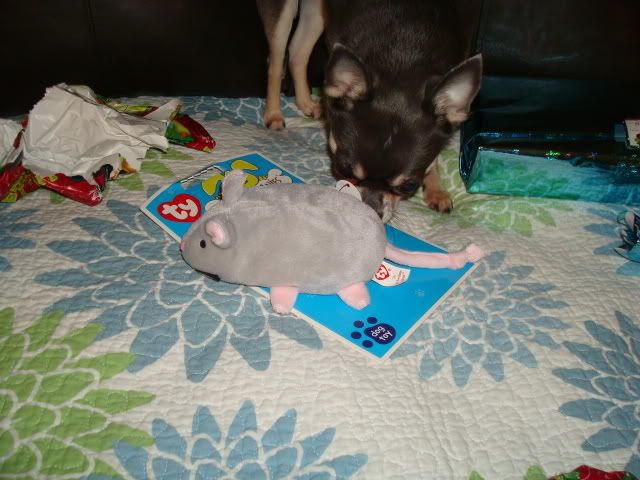 A Porcupine. This is her favorite one of them all!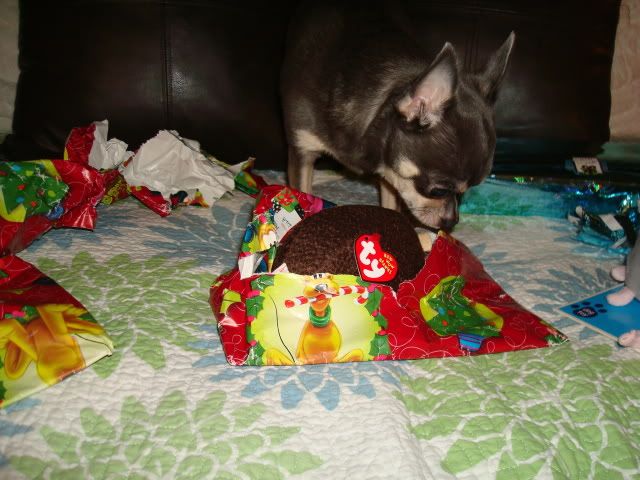 And a bone shaped palm tree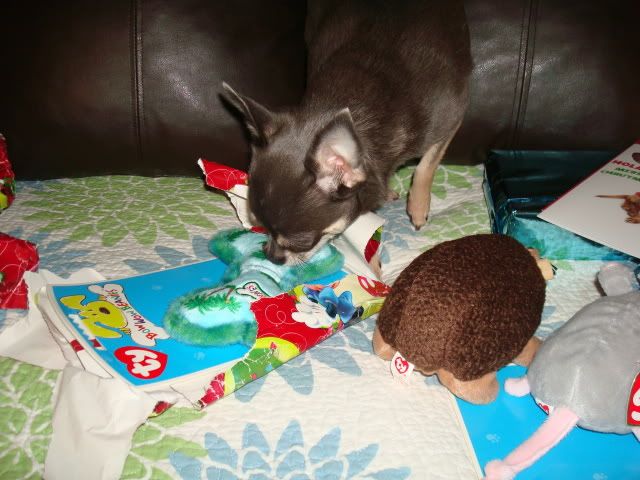 This red pom pom scarf looks adorable on her! She actually likes wearing it! Lol! Lila also got a super cute santa hat, but I didn't get a chance to put it on her yet. She does like to bite on the pom pom at the end of it though.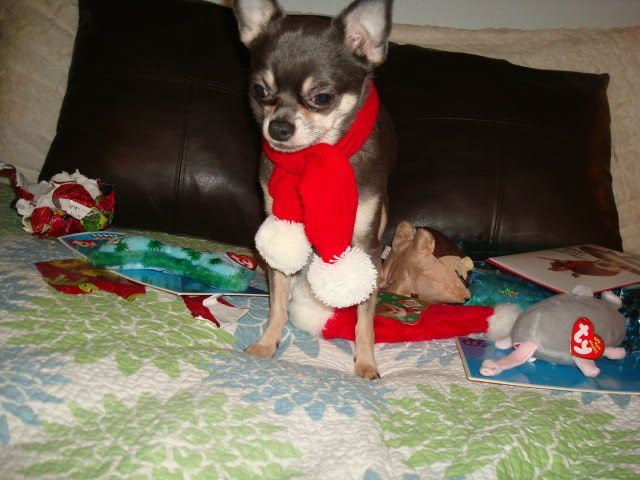 And now for the big one!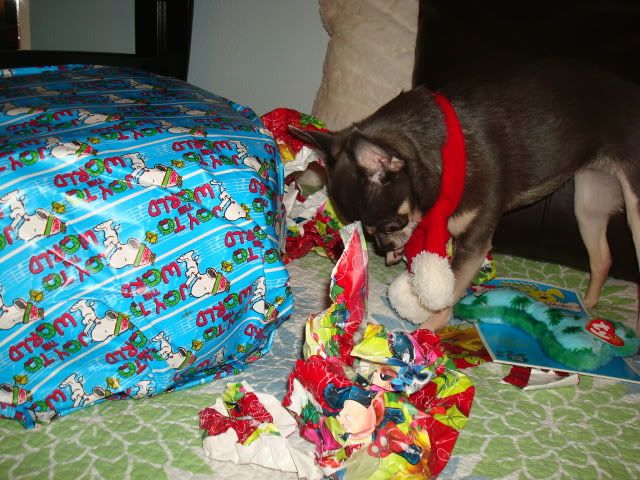 When I saw what was inside the wrapping paper, I totally freaked! Moni said she was having a bag made for herself and even showed me a picture of it in a pm. I LOVED it, and wanted to have one made too. You can imagine how totally shocked I was when I saw the bag!! It is a gorgeous leather black Marc Ekko bag that Moni sent to a lady to have this gorgeous silver faux fur put inside. It feels so soft, just like the Tiger Dreamz beds. It also has a nice solid and sturdy bottom, and cute polka dot bows on each side. It also has a tether to attach to a harness. This bag is fabulous! The pictures don't do it justice. Lila and mama REALLY REALLY love it! There was a fab gift inside the bag for me, but I will show you all that in a bit.
Lila in her new bag!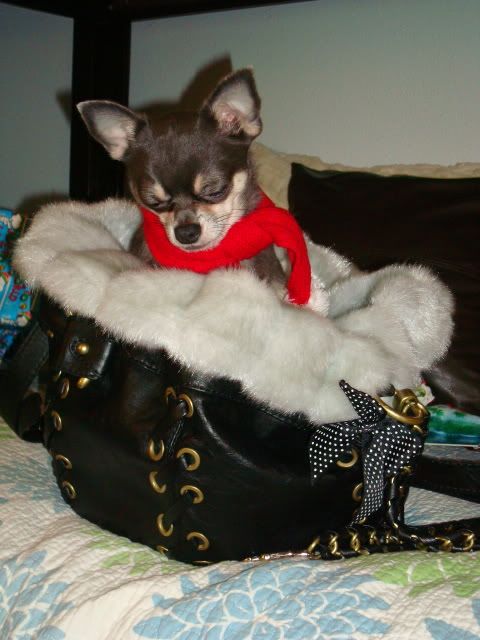 More pics to come......