Discussion Starter
•
#1
•
Hi Guys,
Haven't really been posting much lately but thought I would fill you in on our new addition.
I have taken on a 7 year old rescue and her name is Fiona. She is a 4 pound brindle female that has had one owner her entire life. These people had a baby a couple of months ago and changed their direction in Fiona's place in their household. She used to be the "baby" herself but became secondary and instead of sleeping in the bed and getting lots of attention like she used to, she was crated at night and wasn't able to live the life that she was accustomed to. They decided she would be better off in a family that could give her more attention and the love that she deserves. I hesitated in this venture as I have four pups that are very used to one another and was quite settled in my pack the way it was. I took her as a trial and after a mere few days have fallen in love. Big surprise, huh??? Fiona is pee pad trained and hasn't had one accident. She has no interest in playing with the pups (which totally irritates them, LOL). She shook the entire first day and I felt just sick for her and really thought maybe this wasn't the place for her. Magically and quickly she bonded herself to me and started to relax. She loves the raw food that I feed my pups. She's growled a couple times at the other pups when they get too close but doesn't appear to have any nastiness inside of her. She wants to sleep and cuddle all day long. My oldest chi is Coco and she is 3 and still very much plays with the others but this one is dead set to sleep and cuddle. She is sweet, hasn't barked once, and is starting to wag her tail and act like a happy, well adjusted dog already. She is a registered ACK pup and appears to be in very good health. I'm working on her teeth as they need some help but aren't awful. The raw will help with that. I gave her a bath and she was wonderful and she let me cut her nails without a problem. I have become her everything and she is slowly bonding with the girls and Andrew. I feel good about the decision as having her hasn't added one ounce of stress to our lives here... yet!!! LOL!!! I think she simply needs love and attention to be quite happy. Oh, she started off sleeping with us the first night and found her spot right above my pillow next to Coco or curled up to my chest. She is truly an angel and I feel lucky that I was given the chance to give her a loving home. I think I must be crazy!!! LOL!!! I got some pictures but she is not thrilled at all with the camera. Can't get many with her ears up!!! Thanks for listening and I just wanted to share her with you guys.
Her snuggling with Coco.
Hmmmm, lots of action here, do I really wanna stay???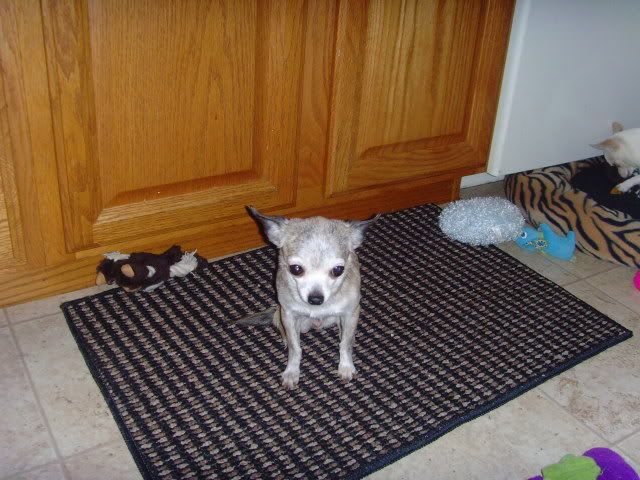 She's found her favorite bed in the kitchen. She is always here unless she is in my lap!!!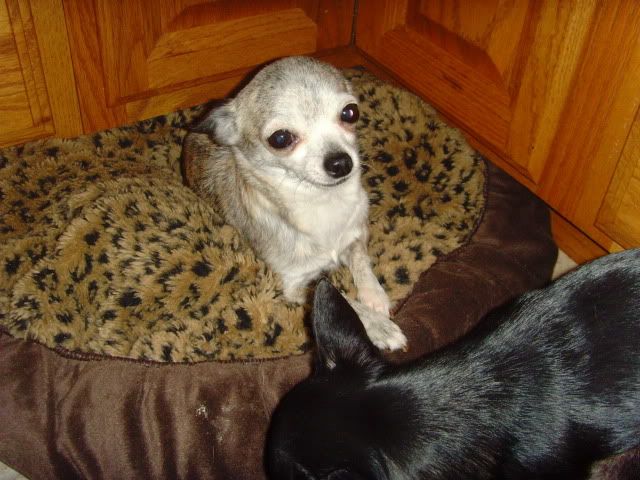 Getting more comfortable and snuggling with the little ones. As long as they are sleeping or not pestering her, she seems to like them. LOL!!!
Snuggling with little Lily Pad!!!
Her own little eating spot under the table right by my feet!!!