Discussion Starter
•
#1
•
Haven't shared photos in a while so I thought it was time for a "dump". I got to go see Pockets & Boo a couple weekends ago. They're a couple of the sweetest Chi's ever--so well adjusted & friendly--they make me very proud!
Here is Pockets w/his mum. He's got some soft ears due to teething (they better go back up though his parents don't care either way LOL). He's a chunky almost 5lbs when we visited & they were 6 1/2mo at that time. Just been neutered & is the most energetic guy & everyone who meets him wants to steal him because of his amazing personality. hehe
Little Boo Radley lives in Boston with his mum & came up to visit. He's a bit less energetic than Pockets but still super friendly & was handing out kisses left & right. He weighed just at 3lbs at our visit He ended up being a cream spotted on white...like I had guessed. hehe He's an adorable little guy....here he is with his mum.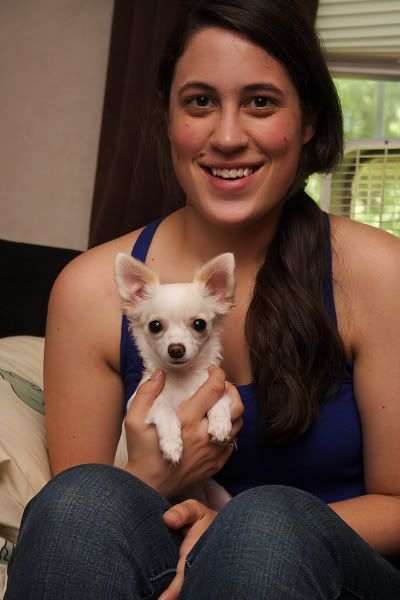 Little Lulu had her first match a few weeks ago as well. It was a lot of fun & nerve wracking at the same time. I still have so much to learn--but she did great & got some ribbons to boot so that was cool.
The toy puppy class...
And Lulu w/her ribbons:
And now some randoms from the crew...
Lulu's getting cream!