Discussion Starter
·
#1
·
I was going through the 1,00000000 of photos of the pups on my phone and saw this which made me LMAO!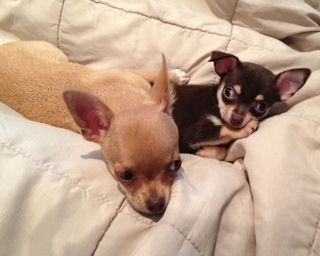 It's the day we brought Chloe home. Ax was looking at her like "what is this" and she was looking at goodness knows what because her eyes were so all over the place you can't tell!
This gave me the idea of starting a funny photos thread so hopefully we can all have a good laugh at how silly out Chi's can be. Please post your funniest photos of your little cuties that crack you up. Can't wait to see them all.
*Please note that not only do Chloe's eyes now both face in the same direction but that direction is also forwards - phew!