Discussion Starter
•
#1
•
Well these are partial results, I am still waiting on the results of their bloodwork. We spent 2 hours at the vet getting everything done, that's a new record for us (and no, it wasn't spent waiting either).
Let me start out by saying that I officially despise my new vet. I seriously think I might find a way to take them back to my old holistic vet in Orlando...I've got to figure out a way to make it work.
The good news is that everyone got a clean bill of health, all three tested negative for parasites and heartworm.
The best news of the day is the findings on Glory's knees. Some of you may know that Glory was diagnosed with patellar luxation (slipping knee caps) in both her knees in March of 2010. Her knees were graded as a grade 2 in her left knee and a grade 3 in her right knee. I turned to other people who treat PL in dogs homeopathically and started up a regimen of my own for Glory and her knees. As time passed I knew her regimen was working because over the months her knees were luxating less and less frequently but it was anecdotal evidence. Well today I got the proof that I needed and it's totally made my day! Glory's PL is actually getting BETTER!!! She had her knees graded today and she's now at a grade 1 in her left knee and a grade 2 in her right knee. Each knee improved by a grade and I am ecstatic!
That's the best news I could have asked for and I will continue what I'm doing for Glory since I have firm proof that it's working.
Faith is notoriously hard to draw blood from, always has been. Poor girl had to be stuck 5 times before they struck gold (blood). She got her leg shaved and a pretty wrapping. Look how pitiful...
Dakota turned into Satan the moment he saw the needle. I've been having his blood drawn for years at the vet and he's always been an absolute angel about it, never makes a sound or moves a bit. But today was a whole different experience that I still cannot wrap my head around. The second he saw the needle he completely freaked out, I mean full on panic and screaming like his life was in jeopardy. After a few attempts to draw blood he turned nasty, not his fault really but it was awful to watch him in such a state. And this was all from just seeing the needle, not even being stuck yet!
It took a muzzle and 4 people holding him down to get his blood drawn and afterward he hid under my chair the rest of the time we were there.
Anyway, my beef with the vet is first he tells me that huskies can do just fine staying out in 110+ degree weather after talking about how my sibe staying indoors mostly during the summer months. Uh, I hope he doesn't advise other husky owners to leave their dogs in that kind of heat all the time. Then he tells me what I'm doing for Glory's knees doesn't work and that I don't need to give the supplements that I do because they won't do anything for her. Umm okay, this is what my holistic vet and every other vet that I know of recommends for managing PL and it's what has worked on my dog for the last year but you're right, let me stop doing what I do for her and let her legs get worse so that she can either no longer walk or needs surgery. And my tipping point was when he told me I should shave my husky before summer comes because his coat will only make him hot and he doesn't need it. What?! I wanted to get up and leave right then and there but this guy is old and set in his mindset and ways so I just kept my mouth shut, thanked him for his time and left. I wonder how many other huskies have been shaved as a result of this buffoon. Oh and my favorite, he wanted me to put my dogs on a whipworm wormer. Why? Oh it's very common for dogs to get whipworm. Sure it is, in all the years I've had my dogs none of them has ever had whipworm AND their fecals today showed they have no parasites. Let me buy some whipworm wormer right now!
So sorry, I think I went on a little too long about our visit today. I don't ever want to take my dogs back there again. I'm seriously going to see if I can manage to get my dogs back to their holistic FL vet next year.
Then as I was getting ready to feed the dogs I noticed a spot on Faith neck. Looked a little closer and found this...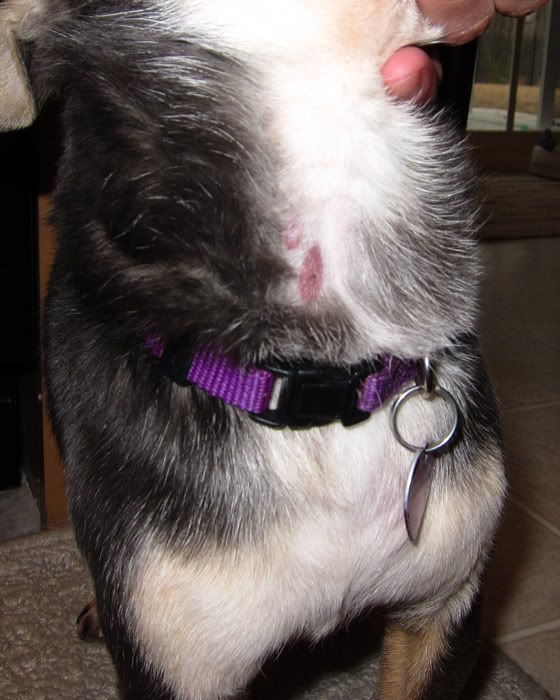 Goodness gracious you can see two holes there from the needle and they didn't even tell me about this!
They told me about shaving the leg and drawing from there but not about shaving her neck and trying there too! Poor thing, those are big holes! I've never had such a horrible vet experience. Never going back there again, ever!
Oh and one last, sad note. The vet said I'm the first one he's seen with all of my dogs in perfect body/weight condition. He said all of the other dogs are all overweight and said it was great to see how well I take care of my three and keep them in perfect shape. How sad is that?
I'll update again when I get their bloodwork results.
Thanks for listening if you've read this far!