Here is a pic of two of my guinea pigs, Ruben and his brother Rye.
These two boys came to me from a lady who had rescued them as babies, but could no longer care for them anymore. Initially I took them in with the intention of finding them a home...but fell in love with them.
Ruben is gentle and very placid, while Rye is highly strung and "scatty."
I love them both and wouldn't part with them for anything. I'll try and get better pics this week
Here they are ~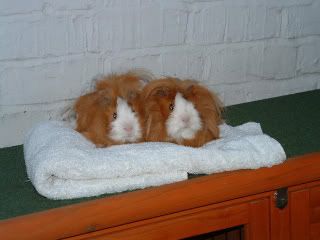 Barbara x