Discussion Starter
•
#1
•
A parcel arrives and its addressed to Jake and he is all excited but I have to tell him I can't give it to him until Red's parcel arrives.. "Awe mum but its for mees" so to keep Jake happy I give him a bully stick which seems to take his mind off the parcel.
Then not long after another parcel arrives, jake is so excited again as he knows what's coming but Red is baffled, but.. I am not well and have no energy and I really want photo's so once again the bully sticks come out.
Then today being somewhat better I take my camera only to see the battery is about to die on me, oh jeez just my luck but...I click away and someone is looking after me as I had just enough battery to take some photo's and quickly upload them to my laptop.
So here they are, and yeah I got carried away but the boys were so excited I had to take their pics.
Cor..! Is this for mees (Jake licking his lips cos he knows there are treats inside)
Another box, which to open first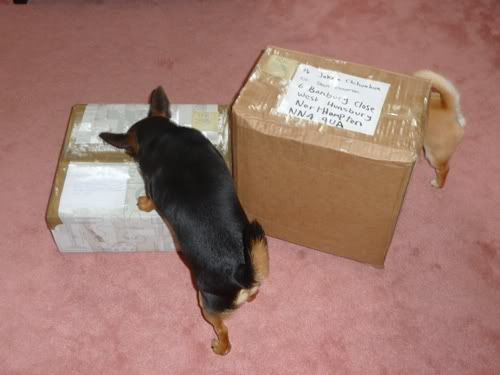 But Jake but hows wes gonna open them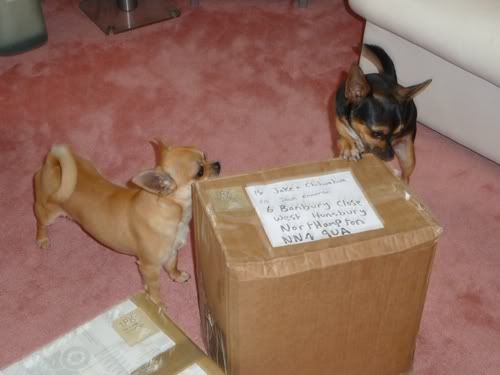 First ya gotta get ya teef into a corner
See hows I gets a good bite
Come on Red giz a helping paw here
okay Jake I gets mees teef into a corner now, this is fun
I'm in, I'm in..oop's I fells in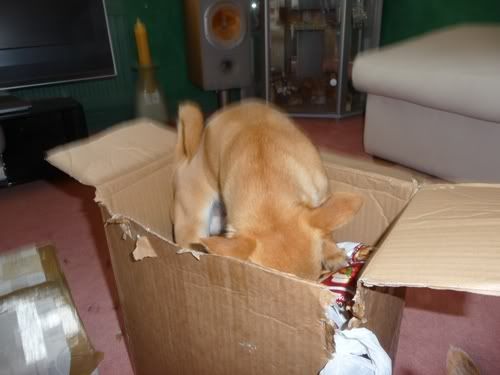 More to come....................