Discussion Starter
·
#1
·
I decided to do a fall photo shoot with my baby...Sissy. She has come a long way from when we first got her. She was afraid of every little thing, moving or not. I am very proud of her. I was surprised how well she did in this photo shoot, given that dogs do have a mind of their own and sometimes not very patient with us. So i'm very surprised that she did as well as she did.
This is one of my favorite pictures of her.
She is a scarecrow for halloween.
The costume didn't come with a hat, which was surprising. But non the less she still looks cuter then ever. lol.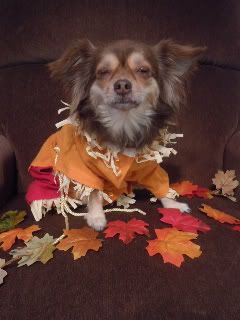 I was very surprised that she did not throw the leaf off her head. She just let it sit there like "Okay whatever" lol)
Just a photo of her full costume.
The photos are all "medium" sizes on photobucket. I don't know why they still look huge.