Discussion Starter
·
#1
·
I am SO proud of my little man. :love7:
I just have to brag because socialization has been such a big issue with me since he was a puppy. A few weeks after I started socializing him I fell and broke my hand so it was really difficult to take him anywhere for a while. My boyfriend helped me so we did make some progress but we never got to meet our goal of 100 new people.
Recently my old boss called me back in to work. The store sells all-natural/eco-friendly pet products and food so I'm able to bring Teddy in to work with me for 3-6 hours, depending on how long they need me that day.
He's always been a fairly shy dog. He'll bark at strangers and sometimes try to go after dogs he hasn't met. He looks and sounds really aggressive at times (only towards dogs) but has never, ever bitten anyone or anything. But since I've been taking him in to work, his reactions are MUCH more pleasant! He meets probably 20 new people a day who stop to pet him or talk to him while picking things out for their own dogs, and maybe 1-3 dogs.
If he barks, I put him in our office and close the door until he stops barking. When I let him out again he knows he has to be quiet in order to stay with me. Now he will lay down on the floor and happily chew a toy without even minding the new people coming in to the store. He actually approaches most people and asks for pets.
He's still pretty reactive to new dogs (at first), but after a few minutes of huffing and puffing he will tolerate them and follow them around the store. The really little dogs he'll play with!
Here are a few pictures!
He was helping me unload a few boxes..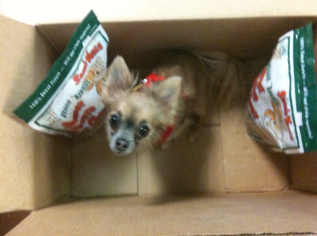 Very disinterested in picture-taking. Would rather have pets.
He guilted me into buying him a new toy.