So Pepper was dangerously underweight about a month ago. She was only 3.2 lbs, and she is a tall/larger chi. She is now up to a little over 4 lbs. I can no longer see any ribs but I can see a few vertabre of her spine and her belly looks thin to me. She is not full chi, or if she is she is terribly bred. She seems to look very italian greyhound-ish. I know they have a different look and can be very thin and still healthy. The vet was suggesting to just give her a ton of food whenever she wanted (they recomended SD of course which I will not give). I did not agree as Pepper will eat until she throws up, literally. I have her on wellness core. I have the puppies on ziwipeak and am going to switch the older ones soon as the wellness runs out.
Should I give Pepper ziwipeak now? Will it help her gain weight? I feel like I am starving my dogs because they are all thin (the others aren't underweight) and act as though they are starving everytime I feed them. Coco gets 1/4 cup twice a day (of wellness) and she is just right, if I fed her any less I think her bones would show through. They all get coconut oil and the missing link everyday with their food. I have taken them all in to the vet several times to be checked for worms and it is always negative.
I am just at a loss as to why I have such thin dogs when everyone else seems to have a problem keeping theirs from getting fat. Pepper does get more food than the others, but it seems to just make her poop more at a time and more often. I was giving half a cup twice a day, but I cut back to 1/4 cup twice a day.
One more question. I have been giving the little ones 1/8-1/4 cup of ziwipeak 3 times a day. Kashi is steadily gaining ounces and has a little layer of puppy fat just as she should. Moka isn't as fat as when I got her, but she is still gaining and now just a little bigger than her sister. Is this ok as long as they continue to gain weight? Do I need to free feed because they are puppies? They seem to be doing well on the schedual I have them on. They are the only ones who eat at a normal pace, not like its the last food they will ever see.
Sorry for the novel of a post. I am just super paranoid about Pepper. Any suggestions? Maybe I am just overreacting because she got so thin before.
Before: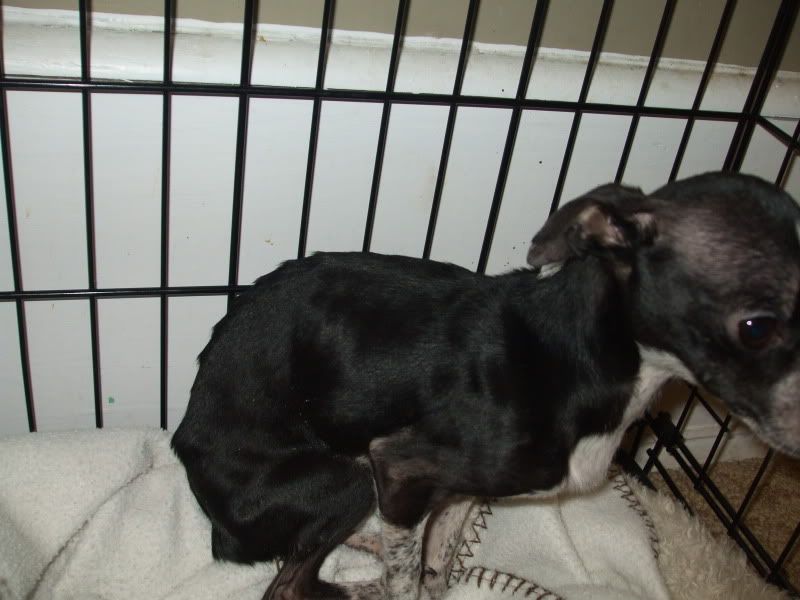 Tonight: