Received this awesome snuggle sack yesterday. :hello1: Heather/cprcheetah is selling them for a great price, thanks Heather! Both of mine love to burrow so I had to get one. Roo especially loves it. Pip has only gone in once and I couldn't grab the camera fast enough before he came out to see what I was doing so that's why he's absent from the snuggle bag pics.
Pip seems a little confused by it so far. At one point he actually went under it, instead of in. Silly boy. :lol: It's super roomy and they both easily fit inside with a lot of room to spare. Roo's been in it tons, and just loves it, so here's some pics of her.
It's hard to tell because she is not at the bottom of the snuggle sack, but there's tons of room in there so it's also great if you have more than 1 pup too and they like to cuddle.
This made me laugh seeing her ears poking out so I quickly grabbed the camera.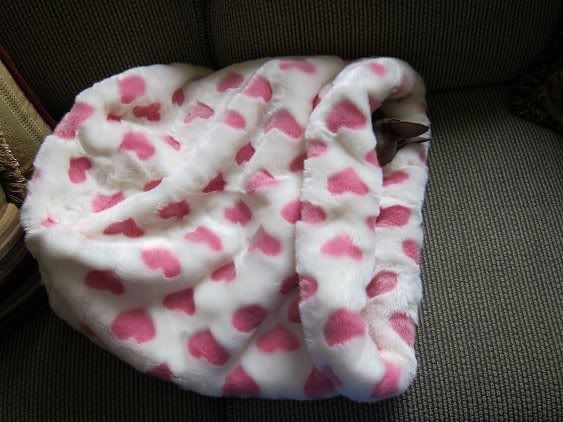 And a couple pics of the MS bed. Been meaning to post some, but all the pics came out poo as I took them in low light. Here's a couple anyway.
They LOVE this bed. It's definitely their favorite bed now. It's huge and super roomy so you can throw a few cozy blankets in there and still have tons of room. Love the color and how everything comes off easily for washing. :hello1:
Dis is my new Marfa Stewerd sweater. Mom sayz I wook cute in it.
Haha had to buy the sweater too, it's so cute. The neck is made oddly big which is sorta annoying, but oh well. I like it.